Open Access Book Prizes
ACLS Open Access Book Prize + Arcadia Open Access Publishing Award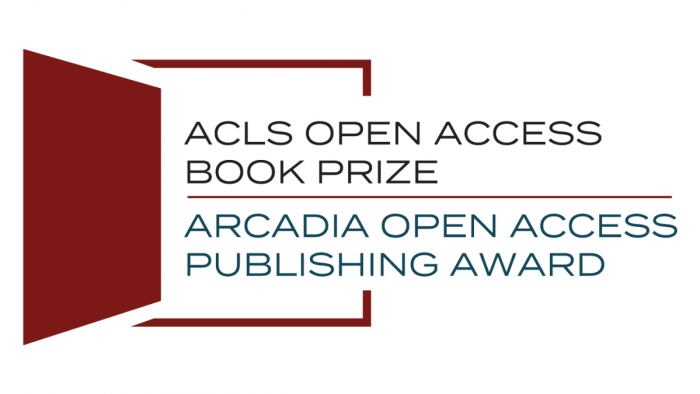 Open access publishing offers exciting new opportunities for scholars to share their research with wider audiences. At the same time, it provides readers around the world with access to reliable and thoughtful studies of the human experience. The ACLS Open Access Book Prize and Arcadia Open Access Publishing Award aspire to generate enthusiasm and prestige for this new mode of publication among humanistic scholars. The prizes further aim to raise public awareness of the resources freely available to anyone with an internet connection.

Supported by a generous three-year grant from Arcadia—a charitable fund of Lisbet Rausing and Peter Baldwin—these prizes recognize and reward the authors and publishers of exceptional, innovative, and open humanities scholarship. In the initial competition, two open access monographs will receive dual awards. Authors will receive the $20,000 ACLS Open Access Book Prize. Publishers of the winning titles will receive the Arcadia Open Access Publishing Award in the amount of $30,000 to support forthcoming books that would not otherwise be published open access. The prizes, among the largest for scholarly books, will be presented at an awards ceremony in May 2024 at the ACLS Annual Meeting.
Along with its promise, open access publication also brings significant challenges. Funding streams, distribution models, book production workflows, perceptions of prestige—all are disrupted in the transition to an open publishing environment. At this crucial moment of change, the ACLS and Arcadia open book prizes recognize and encourage equitable and inclusive accessibility in all its dimensions. Providing free access to humanistic scholarship is but one step.
Submissions closed on September 1, 2023. For more information on the 2023 submissions process, visit our competition page, join a live information session, or watch a recorded presentation.
Follow us on LinkedIn at ACLS Open Access Book Prizes.