Past Event
HBCUs: Legacy and Future
On Friday, April 28, 2023, ACLS hosted a conversation on the extraordinary legacy of Historically Black Colleges and Universities' scholarship and impact on US history and politics, despite historic underfunding, as well as visions for future investment. Part of the 2023 ACLS Annual Meeting in Philadelphia, PA, the panel was moderated by Jovonne J. Bickerstaff, ACLS Senior Program Officer for Higher Education Initiatives, and featured David Canton, Jelani Favors, Eileen Kane, and Melanye Price.
ACLS HBCU Faculty Fellowships and Grants
The HBCU Faculty Fellowship and Grant Program supports the work of faculty at HBCUs by providing awards that attend to the specific teaching, research, and service contexts of their institutions. The program is the result of an extensive series of listening sessions and consultations with HBCU faculty and administrators from a wide range of institutions about opportunities and needs for research support at their colleges and universities.
Learn More and Apply
Panelists
Jovonne J. Bickerstaff is Senior Program Officer for Higher Education Initiatives at ACLS, where she designs and implements strategic initiatives to foster networks and forums for promoting equity, justice, and well-being in the academy. She leads change acceleration programs like the Intention Foundry (IF) and the Leadership Institute for a New Academy (LINA), and previously led the Emerging Voices Fellowship Program. An interdisciplinary scholar of emotions, her work examines ecosystems of well-being, ethics of care (self and communal), and intergenerational trauma and healing at the intersections of race, gender, and class. Bickerstaff holds a PhD and MA in sociology from Harvard University, a MPhil in social psychology from St. John College, University of Cambridge, a BS in urban studies and a BS in writing from MIT.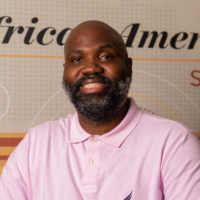 David Canton is Director of African American studies program and Associate Professor of History at the University of Florida. He is the author of Raymond Pace Alexander: A New Negro Lawyer Fights for Civil Rights in Philadelphia. He is also the co-author of Radio Active: A Memoir of Advocacy in Action, on the Air and in the Streets. Currently, he is writing a biography titled Biography of a Black Scholar: Lawrence Dunbar Reddick. He teaches courses on the Black Freedom Struggle, Civil Rights Struggle in the North, History of Hip Hop Music and Culture, and Introduction to African American Studies. His African American history class was featured on C-Span American History Television. Canton graduated with a BA in history from Morehouse College, received his MA in Black studies from The Ohio State University and PhD in history from Temple University.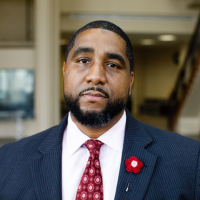 Jelani Favors is the Henry E. Frye Distinguished Professor at North Carolina Architectural and Technical State University. In his role, he is assisting in establishing the Center of Excellence within The College of Arts, Humanities and Social Sciences and will serve as the center's founding director. Favors also teaches courses in the Department of History and Political Science. He is the author of Shelter in a Time of Storm: How Black Colleges Fostered Generations of Leadership and Activism (University of North Carolina Press, 2019). For this book, Favors won the 2020 Stone Book Award presented annually by the Museum of African American History in Boston and the 2020 Lillian Smith Book Award from the University of Georgia Libraries and the Southern Regional Council. Favors has a bachelor's degree in history at North Carolina A&T State University. He holds a master's degree in African American studies and a PhD in history from Ohio State University.
Eileen Kane is Associate Professor of Modern European History at Connecticut College, where she also directs the Program in Global Islamic Studies. She is the author of Russian Hajj: Empire and the Pilgrimage to Mecca (Cornell, 2015), which won the Marshall Shulman Book Prize from ASEEES (2016), and received Honorable Mention for the Reginald Zelnik Book Prize in History from ASEEES and the Heldt Prize for Best Book by a Woman in Slavic/Eastern European/Eurasian Studies from AWSS (2016). Kane is a specialist in modern Russian history with a particular interest in religion, migrations, and Russia-Middle East connections. She earned her PhD and MA from Princeton University and her BA from Brown University. Between college and graduate school, she spent two years studying in Istanbul, Turkey on a Fulbright grant. She is currently finishing up a year training in Middle East Studies at Brown University on a Mellon New Directions Fellowship.
Melanye Price is the inaugural Director of The Ruth J. Simmons Center for Race and Justice at the Prairie View A&M University. Price is also an Endowed Professor of Political Science and principal investigator for the university's African American Studies Initiative, which is funded by the Mellon Foundation. She is the author of two books: The Race Whisperer: Barack Obama and the Political Uses of Race and Dreaming Blackness: Black Nationalism and African American Public Opinion. Her new project is called "Mountaintop Removal: Martin Luther King, Trump and the Racial Mountain." Price was the 2017 Black History Month lecturer for the US Embassy in Germany. She has done election commentary for Philadelphia's NBC 10 as well as the New York Times, Ms. Magazine, The Hartford Courant, Vox, and more. Price completed her BA (magna cum laude) in geography at Prairie View A&M University and her MA and PhD in political science at The Ohio State University.
Related News & Events