Intention Foundry
The Intention Foundry continues ongoing efforts at ACLS to expand its reach beyond fellowships, by developing new programs that will strengthen humanistic studies for the 21st century.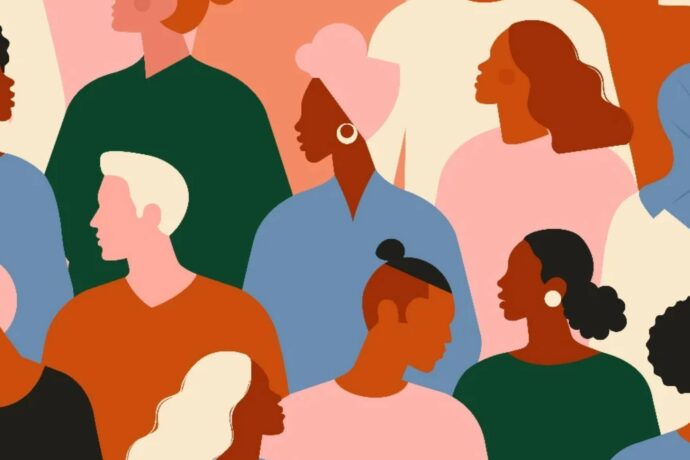 ACLS is working to pilot projects for change by mobilizing its convening power to build bridges among three elements of the ACLS ecosystem – scholars, societies, and college/university administrators – with the goal of advancing equity and inclusion by drawing on the resources of professional academic societies. Thanks to generous funding from The Andrew W. Mellon Foundation, ACLS launched the ACLS Intention Foundry or IF with our inaugural convening on Inclusion Diversity, Equity and Anti-racism (IDEA) in spring 2021. "These are three groups that do not naturally gather," says Joy Connolly, President of ACLS, "and we are grateful that The Andrew W. Mellon Foundation sees the will and energy for change that we can unlock by enabling them to determine how best to work together."
The Intention Foundry continues ongoing efforts at ACLS to expand its reach beyond fellowships, by developing new programs that will strengthen humanistic studies for the 21st century. Over the next three years (2021, 2022, 2023) ACLS will welcome participation from all its member societies, each year accommodating 12-15 society representatives and selected emerging scholars members to collaborate in accelerating equity, inclusion, and structural change in the academy. Preparations are currently underway for the second IF convening which will launch in spring 2022.
About the Intention Foundry
By amplifying successful efforts and devising new coordinated strategies for change, the Intention Foundry serves as an incubator; it fosters new partnerships, encourages creative speculation, and supports collaborative problem-solving to pilot and implement initiatives that help us achieve a more equitable, inclusive, and just academy. The Foundry is led by the Senior Program Office of Higher Education Initiatives, Dr. Jovonne Bickerstaff, who took on the role of organizer in fall 2020 and renamed what were formerly called "Summer Institutes" as the "Intention Foundry," or IF, to capture the dynamic work of hammering out good intentions into action.
IF consists of a series of intensive online and in-person institutes centered on aspirational projects proposed by the next generation of scholars, particularly scholars of color and first-generation scholars. By placing their creative solutions at the start and the center – and ensuring their contributions of time, expertise and labor are duly recognized and rewarded – the Foundry enables these scholars to take a leading role in shaping actions to advance anti-racism, equity, and justice in their fields and institutions. Hearing their hopes, concerns, and propositions for change at IF's outset, not only disrupts the status quo, it positions them to set the agenda for changes that will create a more just academy in the 21st century. ACLS is equally attentive to the challenges and work many of our member societies are grappling with around the futures of societies, membership, as well as around inclusion, diversity, equity, and anti-racism. We see IF as an opportunity to integrate these threads by amplifying current efforts, energizing their memberships, and identifying actionable paths forward to recruit, retain, and, especially, support historically and systemically disadvantaged groups, especially Black, Indigenous, Latinx, and first-generation scholars. At the same time, we hope to provide university leaders with a rare opportunity to learn from emerging scholars of color, while gaining new insights into societies' work to advance equity and vice versa.
Inaugural Intention Foundry (IF) 2021 – Inclusion, Diversity, Equity and Anti-racism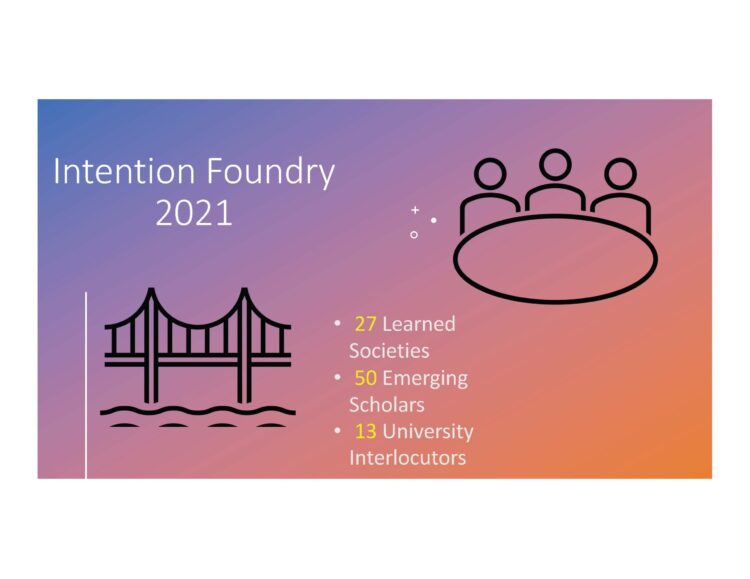 Given the online environment made compulsory by the COVID-19 pandemic, for the 2021 Intention Foundry, ACLS shifted from a four-day in-person retreat to a two-part virtual series with a spring & summer session held for four hours over two days. These virtual convenings consisted of society leaders (executive directors) and up to two invited "society scholars" (early-career, first-generation, and scholars of color), which in the spring session, contained about 40 people, roughly 15 directors, and 25-30 scholars. The summer sessions completed the triangular network by reconvening spring participants and welcoming university interlocutors into the conversation, giving us a total of 77 participants in the spring sessions and 90 in the summer sessions. For the two iterations of IF 2021, Group 1 convened for the spring April 8-9, 2021, and in the summer June 10-11, 2021, while Group 2 met for the spring on April 29-30, 2021, and in the summer June 24-25, 2021.
The spring sessions in April commenced with a lightning session where the society scholars presented one PowerPoint slide and offered a brief (90 seconds) description of their "moonshots," plans for collaborative action to advance equity in their fields. The guiding principle for the spring sessions was identifying the core inequities scholars' moonshot ideas were designed to redress, to help them engage in more productive problem-setting, the necessary and often under-appreciated precursor to problem-solving. The spring convening included sessions on reframing the relationship between diversity, inclusion, and equity, approaches to centering intentionality and ethics of care in designing new initiatives and distinguishing between technical versus adaptive solutions. A few examples of scholar-proposed DEI moonshots include:
developing college/university spaces to support student-parents, including child-care centers
creating or increasing society and college/university funding for grants that compensate community participants
creating a multi-society mentorship network and developing institutes to train faculty mentors
developing first publication fellowships to demystify the publication process for early career professors by offering them multi-year mentorship and support
investing in learning communities established by early career scholars that provide scholars of color with access to academic professional development, peer cohorts, writing support, networking, restorative retreats and resource-pooling
IF's summer sessions in June aimed to help participants refine and expand their problem-solving strategies by undertaking a more nuanced examination of the potential constituencies of their proposed initiatives. Participants were provided with frameworks and tools to help them center constituent needs and anticipate action-stopping anxieties; explore both additive and subtractive solutions, and prioritize first steps by evaluating the relative difficulty versus the impact of needed actions. Welcoming university interlocutors into the summer sessions also allowed spring participants to benefit from these leaders' institutional experience as they received personalized feedback on their proposals.
IF 2021's learned society leaders and scholars engaged in wide-ranging and often difficult conversations about decolonization, racial prejudice, and practices of gatekeeping in curricula and mentoring. Now, they are continuing to collaborate as they work to hone their skills in intentional problem-setting and problem-solving to design productive strategies and sustainable initiatives to advance justice in their fields.
Looking Forward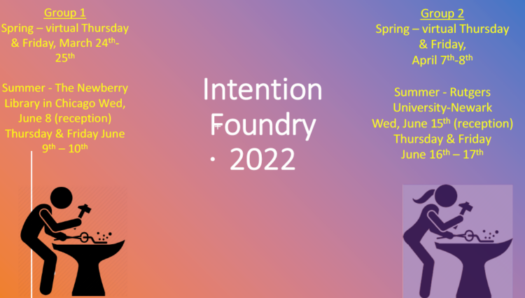 The grant provides some staff support to ensure that convenings produce action rather than just talk, enabling us to support participants in moving fruitful ideas from planning to pilot and implementation. So our aim, from the start, was to identify a small number of initiatives that ACLS could pilot. The vast number and variety of the excellent ideas generated by IF participants, however, prevent us from moving forward with them all. Acting as convener and fulcrum of change, ACLS is currently working to organize additional programming to serve as a resource IF 2021 participants interested in continuing to develop or refine proposed interventions. We are also working to identify a pilot project for implementation this academic year.