Leadership Institute
for a New Academy
Empowering Faculty to Create
Just Futures in Higher Education
The ACLS Leadership Institute for a New Academy (LINA) is a year-long pilot initiative designed to galvanize faculty to forge career paths in administration that will strengthen the humanities and drive forward-looking change. This program is generously funded by the Mellon Foundation for the academic year 2022-23.
The Possibilities of Academic Leadership
Through a series of workshops with sitting and recent deans, the pilot year of LINA will shape the development of a comprehensive program for change-oriented faculty as they consider administrative roles at the dean level. LINA will also function as a vibrant support network for participants as they navigate the early stages of their administrative careers.
[LINA] is based on the idea that people can carry out change even in the most change-resistant systems." Joy Connolly, ACLS President
This peer community will serve as a vital resource in which participants can share, amplify, and refine effective strategies for sustainable change. Ultimately, LINA aims to encourage faculty-turned-administrators to understand and use leadership roles as springboards for change, rather than maintainers of the status quo.
Strategies for Change within Change-Resistant Systems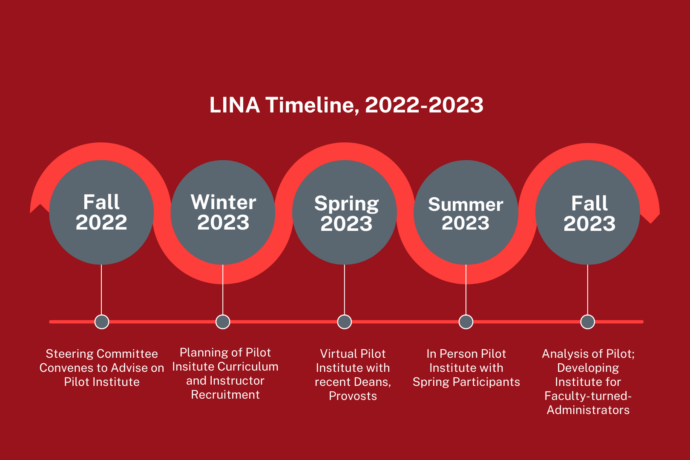 The LINA pilot institute, to be held through Spring and Summer 2023, will feature a series of online and in-person convenings bringing together over 60 scholars with recent experience as deans or in comparable posts and a demonstrated commitment to enacting or accelerating transformational change in the academy. We will discuss and share strategies to address pressing challenges at the institutional level, including retaining faculty of color, curriculum design, and allocating institutional resources – and the systems level, including setting disciplinary norms and rethinking the social role and responsibilities of the college and university. Participants will join a cohort of mutual support, with whose members they may work to bring about change in the academy.
Participating Schools, January-June 2023
Amherst College
Arizona State University
Arkansas State University
Auburn University at Montgomery
Brandeis University
California State University, Channel Islands
California State University, Fullerton
California State University, Los Angeles
Carnegie Mellon University
The City College of New York, CUNY
Clarkson University
Durham Technical Community College
Elon University
Emory University
Fordham University
Frederick Community College
George Mason University
Indiana University–Purdue University Indianapolis
Jackson State University
John Carroll University
Norfolk State University
Northwestern University
The Ohio State University
Penn State Abington
Prairie View A&M University
Princeton University
Rice University
Rutgers University-Newark
Saint Mary's College of California
Sarah Lawrence College
Spelman College
Stony Brook University, SUNY
University of Arizona
University of California, Davis
University of California, Los Angeles
University of California, Riverside
University of California, Santa Barbara
University of California, Santa Cruz
University of Colorado, Colorado Springs
University of Houston-Victoria
University of Illinois, Chicago
University of Illinois, Urbana-Champaign
University of Iowa
University of Michigan, Ann Arbor
University of New Haven
University of New Mexico
University of North Carolina School of the Arts
University of Oklahoma
Universidad del Sagrado Corazon
University of Texas at Austin
University of Texas at Dallas
University of Texas at San Antonio
University of Utah
University of Washington
University of Wisconsin, Madison
Yale University
Inspire, Empower, Act: Changing the Academy
As part of our mission to advance humanistic study, the ACLS vision for a "new academy" emerges from our belief in colleges and universities as places that nurture the conditions for the production and diffusion of knowledge, that are responsive to public needs and interests, that value diverse, inclusive community, and that reward the pursuit of topics, areas of study, and ways of conducting and organizing study that have long been ignored.
LINA recognizes that elements of this new academy already exist or are in development on many campuses across North America and is part of a multi-faceted, strategic priority to accelerate the changes needed to realize this vision. Building on the successes of these efforts, the program empowers current faculty to develop the necessary administrative skills to develop and implement ambitious visions for the humanities and interpretive social sciences not only on their specific campuses, but across the academy generally.
ACLS established LINA on the strength of four beliefs.
Institutions of higher education benefit from the leadership of humanists with strong academic values who seek to center the human in the institution.
Administrative positions are hard work. In conditions of low mutual trust among students, faculty, and administrators, these posts are especially challenging and complex. Support and preparation is needed; but many people who identify primarily as scholars are reluctant to pursue anything that smacks of corporate training. LINA aims to fill that gap.
Standard practice at many institutions of higher education doesn't always meet current needs and hopes – that's why we call for change. The most effective and sustainable kinds of change operate at many levels – the micro (department committees) and the macro (disciplinary norms for tenure, "faculty culture"). LINA seeks to cultivate skills and relationships that will advance change at all levels.
To keep our colleges and universities vibrant, inclusive, exploratory places, we benefit by finding better ways to bring together all voices, from radical critics to progressive incrementalists, in a generous, collaborative spirit, involving students, faculty, staff, and administrators at all levels. LINA is an opportunity for like-minded humanistic scholars to join in this important work.
LINA Steering Committee
LINA is supported by ACLS Staff, as well as its Steering Committee, a group of imaginative and impactful changemakers throughout the Academy. LINA's Steering Committee will advise on curricula for the pilot institute in 2023; help recommend potential applicants; and assist in designing the program and metrics for measuring its success.
Elizabeth Engelhardt, Senior Associate Dean for Fine Arts and Humanities in the College of Arts & Sciences and John Shelton Reed Distinguished Professor of Southern Studies at University of North Carolina at Chapel Hill
Richard Flores, Deputy to the President for Academic Priorities and Professor of Anthropology and Mexican American Studies at University of Texas Austin
Dana Williams, Dean of the Graduate School and Professor of African American Literature at Howard University
Related News