Scholarly Resource List
ACLS Resources: Interrogating the Legacies of Racism in our Society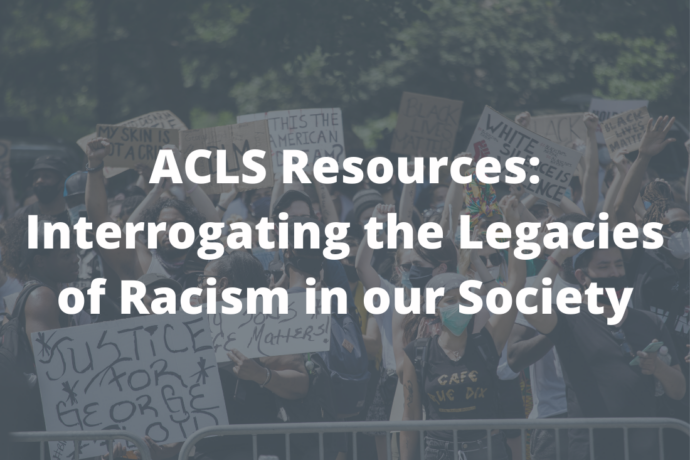 So many of us are continuing to process the anger and grief of the loss of George Floyd, Breonna Taylor, and too many others as a result of police violence and a history of institutional racism in America.
ACLS and many learned societies have issued statements condemning racism, calling for justice, and declaring solidarity with the anti-racism movement. At the same time, we recognize the need to take steps beyond rhetoric and demonstrate a commitment to building and amplifying the world we wish to see.
Humanities research lays bare the long history of violence and oppression in the United States as well as the systemic factors that impede our progress toward equity. The following list represents existing readings, research, curricula, published works, and other resources shared by fellows and other members of the ACLS community that can help in education and reflection on where we have been, where we are now, and where we need to go regarding race and our society. We share these as a means of empowering each other toward elevating the discourse on race, police brutality, and human dignity, as we grapple with the grim and violent expressions of white supremacy in our country and culture and how best to approach change.
If you are a fellow and members of the ACLS community with a favorite resource – yours or another's – that interrogates the legacies of racism in our society, please share it with us.
ANTI-RACISM
RACIAL HEALTH DISPARITIES
RACE & MEDIEVAL STUDIES
RACE IN AMERICA, MULTI-RACIAL SOLIDARITY
RACIAL ACHIEVEMENT GAP
RACE IN AMERICA, SEGREGATION
RACE IN AMERICA, BLACK AMERICA & TRAVELING
BLACK READING LIST
RACE IN AMERICA, RACIAL INDIVIDUALISM ​
RACE IN AMERICA/SYSTEMIC RACISM ​
BLACK & LQBTQ+ EXPERIENCE​ ​
RACE IN AMERICA, BLACK LIVES MATTER​ ​
LINGUISTICS AND RACE​ ​
LSA STATEMENT WITH RESOURCES​ ​
RACE IN BIBLICAL STUDIES​ ​
CRITICAL RACE STUDIES
RACE IN AMERICA, INDIGENOUS PEOPLES