Scholarly Resource List
Indigenous Studies Resource Page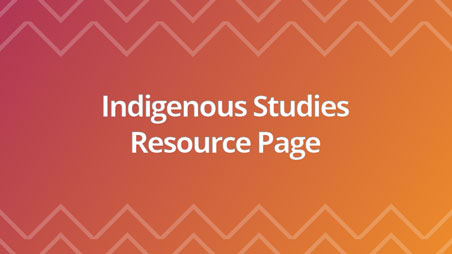 Indigenous Peoples' Day is observed in the United States to honor native peoples the Americas and celebrate their histories and cultures. This U.S. holiday emerged in recent years as a rejection of the erasure of Indigenous peoples from their history. To amplify the humanistic work and contributions of Indigenous studies scholars, we recently asked members of the ACLS community to share resources and work on this area of study.
"The humanities and social sciences will not thrive unless they reflect the diversity of the experiences they seek to interpret," stated ACLS President Joy Connolly. At ACLS, we are dedicated to doing the continuous work of dismantling the biases within academia and positioning these areas of studies as intrinsic to the value of the humanities.
Similar to the previous published sections of scholarly writing and resources on race and racism, LGBTQ+ liberation, and Hispanic/Latinx Studies, these resources are part of our ongoing commitment to and efforts in inclusive excellence and our continued efforts to promote humanistic scholarship in the public eye. If you have any resources you would like to share with the ACLS community, or any questions or comments, please connect with us at [email protected].
NATIVE AMERICAN AND INDIGENOUS HISTORIES
NATIVE AMERICAN AND INDIGENOUS STUDIES
WHY INDIGENOUS PEOPLES' DAY?
RESOURCE LIST ON INDIGENOUS STUDIES
BLACKNESS AND INDIGENEITY
BORDERS, IMMIGRATION, AND INDIGENOUS PEOPLES IN THE AMERICAS
BUILDING INDIGENOUS COMMUNITY AND ENGAGEMENT IN HIGHER EDUCATION
INDIGENOUS YOUTH ACTIVISM IN MEXICO
INFLUENZA PANDEMIC OF 1918-1919 AND INDIGENOUS COMMUNITIES IN THE UNITED STATES
NEOCOLONIALISM AND INDIGENOUS PEOPLE IN THE AMERICAS
GENOA INDIAN SCHOOL DIGITAL RECONCILIATION PROJECT
REVITALIZATION AND CARE OF INDIGENOUS LANGUAGES
ACLS DIGITAL EXTENSION COLLABORATIVE PROJECT TO PRODUCE NEW CRITICAL EDITION OF THE FRANZ BOAS AND GEORGE HUNT 1897 ETHNOGRAPHY ON THE KWAKWAKA'WAKW PEOPLE