Scholarly Resource List
National Hispanic Heritage Month Resource List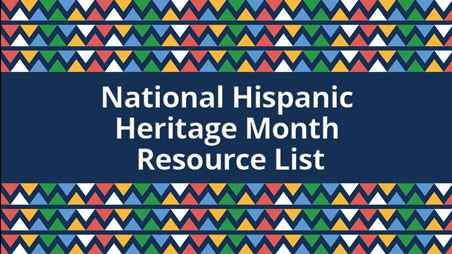 National Hispanic Heritage Month, also recognized as Latinx Heritage Month, (September 15-October 15) celebrates the history and contributions of Americans from or with ancestors from Mexico, the Caribbean, Spain, and Central and South America.
We recognize "Hispanic," "Latino/a," and "Latinx" are all highly contested terms of identity that oversimplify the diversity of people and studies from those regions. At ACLS, our intentions are not to be exclusionary or use these terms interchangeably. Instead, we are observing this month to reflect on and share the scholarly work being produced about these regions and the diaspora.
We invited our global community of fellows to share links and PDFs of existing readings, research, curricula, published works, or other resources that they authored or recommend to share with our community that can help in education and reflection on this important area of study.
Please share your contributions, or any questions or comments, with us at [email protected].
ARTICLES
BOOKS
BOOK CHAPTERS
DIGITAL ARCHIVE
EXHIBITION CATALOG
MAGAZINE
PODCASTS
Hablemos Escritoras
Submitted by Gaëlle Le Calvez House F'21, ACLS Emerging Voices Fellow, Associate Research Scholar at Yale University
RADIO
"Latinx culture, more than Cinco de Mayo" – Central Coast Voices, KCBX, May 5, 2022
Hosted by Mario Espinoza-Kulick F'22, Instructor, Cuesta College, San Luis Obispo and President, Latina Leadership Network
"The legacy of Cesar Chavez" – Central Coast Voices, KCBX, March 31, 2022
Hosted by Mario Espinoza-Kulick F'22, Instructor, Cuesta College, San Luis Obispo and President, Latina Leadership Network
VIDEOS
WEBSITES