Press release
ACLS Names Inaugural Robert H. N. Ho Family Foundation Buddhism Public Scholars
Four Early Career Scholars Will Bolster Capacity of Museums and Publications in Buddhist Art and Traditions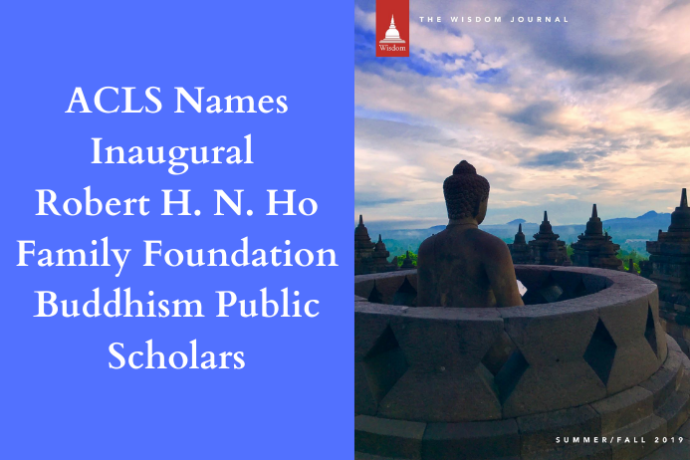 The American Council of Learned Societies (ACLS) today announced the 2022 awardees of The Robert H. N. Ho Family Foundation Buddhism Public Scholars. This new initiative is made possible by the Foundation's generous renewal of financial support to ACLS for its Program in Buddhist Studies.
The four 2022 Buddhism Public Scholars will be placed for up to two years in professional positions with leading museums and publishers that study the traditions of Buddhism. The scholars will bolster the capacity of museums and publications in Buddhist art and thought across all traditions and regions in which Buddhism is practiced.
"ACLS has a long and successful history of championing early career scholars and publicly engaged humanities," said ACLS President Joy Connolly. "Since 2020, we have approached this commitment with more urgency due to the damage the COVID-19 pandemic did to the job market, which disproportionately affected recent PhD recipients. We are thrilled to partner with The Robert H. N. Ho Family Foundation Global, esteemed host institutions, and the new Buddhism Public Scholars to increase public understanding of Buddhist art and ideas in the world."
The 2022 Buddhism Public Scholars and their host institutions are:
Hillary Langberg, PhD, University of Texas at Austin
National Museum of Asian Art at the Smithsonian Institution (Washington, DC)

Joseph Leach, PhD, University of Michigan Ann Arbor
Detroit Institute of Arts (Detroit, MI)

Frederick Ranallo-Higgins, PhD, University of California, Los Angeles
Tricycle: The Buddhist Review (New York, NY)
"The National Museum of Asian Art is pleased to participate in the Robert H. N. Ho Family Foundation Buddhism Public Scholars program, which will advance the interpretation of Buddhist art through research, workshops, public programming, and digital humanities projects," said Chase F. Robinson, Director of the National Museum of Asian Art. "In celebration of the museum's centennial in 2023, Dr. Langberg's research on our collection will help us design programs and digital experiences that inspire connections between historic and contemporary religious practices."
The new Buddhism Public Scholars join twenty other fellows and grantees of The Robert H. N. Ho Family Foundation Program in Buddhist Studies awarded in 2022 for outstanding research, writing, and translation.
Related News