Press release
ACLS Announces New Initiative: The Robert H. N. Ho Family Foundation Buddhism Public Scholars
New Program Will Place Emerging Scholars of Buddhism in Positions with Museums and Publishers Focusing on Buddhist Art and Traditions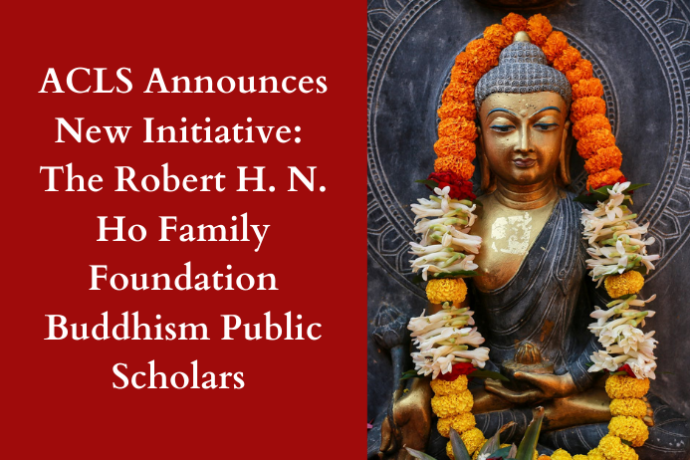 The American Council of Learned Societies (ACLS) is pleased to announce the Buddhism Public Scholars, a new initiative made possible by The Robert H. N. Ho Family Foundation's generous renewal of financial support to ACLS for its Program in Buddhist Studies.

In 2022, ACLS will place up to five early career scholars of Buddhism in professional positions with leading museums and publishers that study the traditions of Buddhism. The Buddhism Public Scholars will bolster the capacity of museums and publications in Buddhist art and thought across all traditions and regions in which Buddhism is practiced.

"ACLS enthusiastically shares the Foundation's commitment to circulate knowledge outside as well as inside the academy. We are very proud to offer this new opportunity for scholars of Buddhism to work with nonprofits and engage the wider public in understanding Buddhist art and ideas, thanks to the generous support of The Robert H. N. Ho Family Foundation," said ACLS President Joy Connolly. "We are also grateful to work with partner organizations across the country, which produce outstanding writing and exhibitions in this exciting area."

Organizations participating in the inaugural competition are:
ACLS provides scholars with $70,000 for the year.

Placing early career scholars in professional positions outside the academy has been a focus at ACLS for over a decade, and has been given heightened emphasis through programs such as the ACLS Leading Edge Fellowship, as the effects of the COVID-19 pandemic continue to impact recent PhD recipients.

Applicants for the Buddhism Public Scholars competition must have a PhD in the humanities or interpretive social sciences conferred between January 1, 2018 and April 15, 2022, and must be authorized to work legally in the United States.

Applications will be accepted only through the ACLS online application system. Applicants should not contact any of the organizations directly. Please visit the Buddhism Public Scholars program page for complete position descriptions, eligibility criteria, and application information. Applications must be submitted by 9pm EDT Tuesday, January 11, 2022.