News Article
Director of International Programs Andrzej W. Tymowski F'91, F'89 To Retire from ACLS
The American Council of Learned Societies announced today that Director of International Programs Andrzej W. Tymowski will retire after 26 years of service to ACLS.
Andrzej joined ACLS in 1995 and went on to develop and lead influential ACLS fellowship and other programs supporting scholars in Eastern Europe, Africa, and Asia. His efforts have helped cultivate now-thriving scholarly communities that identify with the ACLS mission of promoting humanistic inquiry worldwide. In all ACLS activities, especially with new partners in other regions of the world, Andrzej insisted on openness and on the equality that grows out of mutual understanding. The operating principle was not "ACLS wants to help you," but "What can we learn from each other?"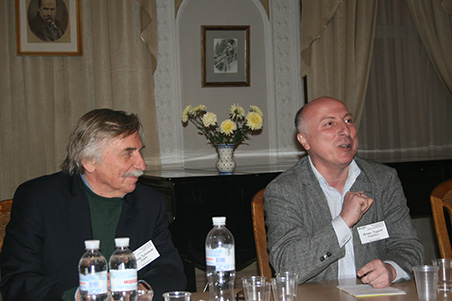 MAG Kyiv 2014
During his tenure at ACLS, Andrzej worked with the support of Carnegie Corporation of New York to design and implement two major international initiatives: the Humanities Program in Belarus, Russia, and Ukraine (1998-2010) and the African Humanities Program (2008 to present). Using fellowship and grant competitions as a base, these programs brought awardees, peer reviewers, and advisers together in productive interactions, which led to the formation of vibrant new scholarly networks.
The program in Belarus, Russia, and Ukraine ultimately provided 743 short-term grants to individuals doing exemplary work in exigent conditions in those countries. In 2007, with support from the Carnegie Corporation, he inspired the program's advisors to establish the International Association for the Humanities (known by its transliterated Slavic acronym, MAG). The association's mission as a new learned society was to build connections among scholarly communities in the region, as well with their counterparts elsewhere in the world.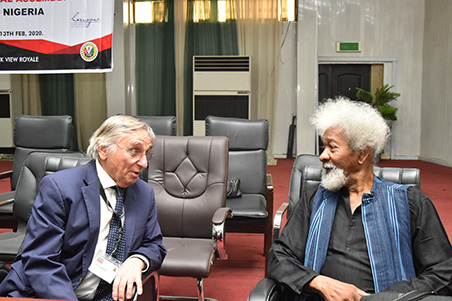 With Nobel Laureate Wole Soyinka at AHP 2020 event in Nigeria
The core of the African Humanities Program (AHP) has been the distribution of year-long fellowships to African scholars working in Africa to support the completion of significant research and writing. Through Andrzej's leadership since 2008, the program has awarded more than 400 fellowships in a variety of humanistic fields, as well as created a network of over 100 senior scholars at African universities, who served as peer reviewers and program advisers. Fellowships included opportunities for residential stays at African centers for advanced study, manuscript development workshops, and the chance to publish their research as part of the AHP Humanities Series of landmark African scholarship. Bolstered by the community developed through the program, Andrzej has worked with AHP advisers in creating the African Humanities Association, a new learned society that has already won an independent research commission from the African Academy of Science and that will become the successor organization to the AHP.
Andrzej has also played an essential role in the continued evolution and advancement of ACLS programs in the study of China and Asia, including the Henry Luce Foundation/ACLS initiative on East and Southeast Asian Archaeology and Early History (2005-2014), which made awards to both Asian and North American scholars, and the Henry Luce Foundation/ACLS Program in China Studies (2012 to present), which has supported research, writing, and collaborative reading of texts by scholars in North America. Most recently under Andrzej's guidance, the Luce/ACLS Program in China Studies has embarked on an ambitious transformation of its fellowships, adding a robust mentoring component and making them more inclusive by reaching out to a greater range of institutions of higher education.

Luce China Studies Program Chinese delegation visit November 2019
In 2014 Andrzej led the launch of a ground breaking program, The Robert H. N. Ho Family Foundation Program in Buddhist Studies, to support research, writing, and teaching in Buddhist studies. With the support of the Foundation, this program has expanded the understanding and interpretation of Buddhist thought in scholarship and society, strengthened international networks of Buddhist studies, and increased the visibility of innovative currents in those studies. The Foundation's seed funds have established eight new professorships in Buddhist studies at universities in France, Hungary, Mexico, and the United States. Building on these achievements, the Buddhist Studies Program will now encourage increased participation by Asian scholars and institutions through the organization of meetings and workshops in Asia. The program will also inaugurate Buddhist Studies Public Scholars, an initiative placing emerging scholars in professional positions at museums and publications.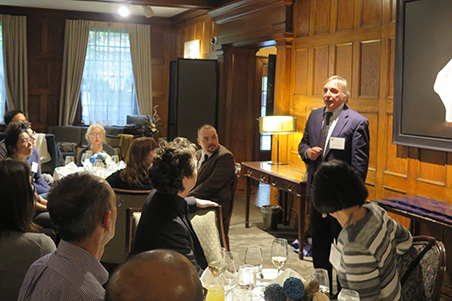 Buddhist Studies Symposium – Toronto 2017
In 2018 Andrzej received (with Sandra Barnes, Professor Emeritus, Anthropology, at the University of Pennsylvania) the African Studies Association's Outstanding Service Award for facilitating the production of knowledge about Africa. In 2016 he was named "Honorary Ambassador of the City of Lviv" by the mayor of that city.
Prior to joining ACLS, Andrzej earned the PhD in political science from Yale University, MA degrees in international relations (Yale) and philosophy (Northwestern University), and a BA in classics from John Carroll University. He taught political science at Emory University and interdisciplinary seminar courses on a variety of topics in Yale College and at the University of Warsaw. While at Yale, Andrzej was awarded two ACLS Dissertation Fellowships in East European Studies, first in 1989 for a comparison of opposition movements in Poland, Czechoslovakia, and the German Democratic Republic, and again in 1991 for completing the dissertation, which the roil of events had transformed into an historical and sociological analysis of social movements in the region's seismic transition from Soviet-style socialism to democracy and market. During his time at ACLS, Andrzej led numerous workshops on writing for publication for young scholars in Eastern Europe and Africa.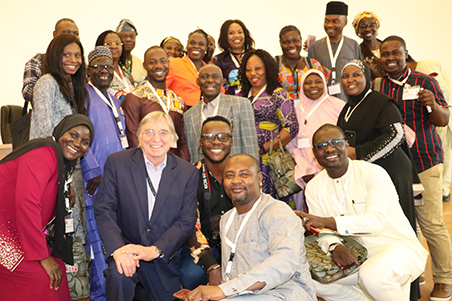 With attendees at AHP Event in Nigeria, 2020
Andrzej's experience, wisdom, and humor will be greatly missed by all of us at ACLS and the hundreds of fellows and partners he has worked with over the past three decades.
ACLS has launched a search for a new program officer and, pending a successful search, Andrzej's tenure as Director of International Programs will end in August 2021. He will then work with ACLS as an advisor to International Programs, a consultant role we anticipate he will occupy through spring 2022.
ACLS is deeply grateful to Andrzej for his service and dedication to advancing the humanities and related social sciences around the world and wish him a happy and equally fulfilling future post-ACLS.