Press release
ACLS Launches Redesign of Program in China Studies to Reinvigorate and Diversify the Growing Field
With Program Grants Totaling $957,000 ACLS Will Continue to Support Scholars and Broaden the Circulation of Knowledge About China with Fellowships and Grants for Research, Travel, and Innovative Collaboration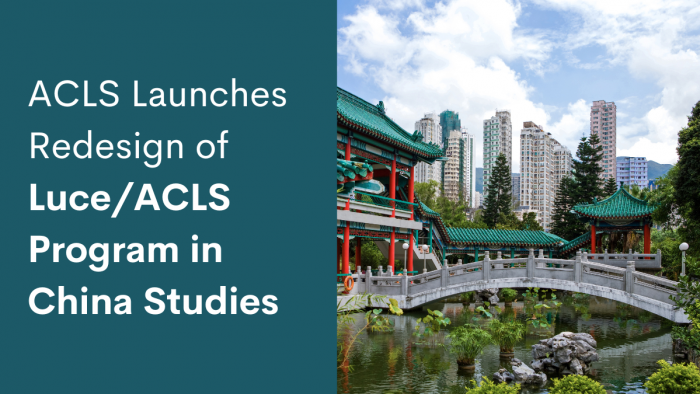 The American Council of Learned Societies (ACLS) is pleased to announce the next generation of the Luce/ACLS Program in China Studies. The program redesign, generously funded by the Henry Luce Foundation, is the result of over three years of surveys and consultation with top scholars, experts, and funders on how best to meet the needs of the field in the 21st century.
This 2023 grant of $750,000 extends the Luce Foundation's support for the program, initiated in 2012, to take it in new directions. ACLS also received $207,000 in additional support for the program from the National Endowment for the Humanities (NEH). The grants inaugurate the second decade of this successful partnership.
The new program continues funding for Early Career Fellowships. ACLS is pleased to resume the Travel Grants competition in the wake of the acute phase of COVID-19. A new Collaborative Grants competition for innovative pilot projects will begin in 2024. Finally, ACLS will develop a new mapping project to identify archives and collections related to China studies around the world.
Directly informed by the needs identified by scholars, administrators, journalists, librarians, curators, artists, and readers of research and writing on China, today's Luce/ACLS Program in China Studies aims to:
Foster more inclusivity in the field by supporting a wider diversity of scholars and institutions and funding a broader range of research topics and methods
Support and sustain publicly engaged, creative, and responsive scholarship that will inform public understanding of Chinese cultures, histories, and societies
Develop effective strategies for long-term change in China studies through collaborative working groups to research and pilot solutions to challenges and opportunities in the field
"ACLS is excited to continue its long history of advancing the study of China and Chinese history and cultures, broadly defined," said ACLS President Joy Connolly. "The Luce/ACLS Program will continue to support early career scholars, while increasing funding for adjunct faculty and those at teaching-intensive institutions and building more opportunities for publicly engaged scholarship and professional development."
"Today's political, economic, and cultural landscape makes the study of China—its cultures, communities, histories, and influences—essential to understanding and navigating our world," said Helena Kolenda, Henry Luce Foundation's Program Director for Asia. "Investment in knowledge creation and the next generation through research, teaching, and public facing initiatives will help expand the capacity of scholars and educators to present China in a more nuanced, multidimensional way."
For the 2023-24 academic year, the Luce/ACLS Program in China Studies will offer:
Luce/ACLS Early Career Fellowships in China Studies

Recent PhDs are awarded up to $45,000 for long-term fellowships (four-nine months away from teaching) or $15,000 for flexible fellowships for research and writing towards a scholarly text. All fellows will have the opportunity to participate in a public writing workshop.The long-term fellowships are made possible in part by the grant from the National Endowment for the Humanities: Democracy demands wisdom.
Luce/ACLS Travel Grants in China Studies
Doctoral candidates and non-tenured faculty are awarded grants of up to $5,000 to visit research sites in China or China studies-related collections or archives anywhere in the world.
Luce/ACLS Collaborative Grants in China Studies
Teams of up to six members are awarded up to $25,000 per member for pilot research activities that can initiate long-term transformative change in the field of China studies.
Learn More and Apply
The competitions for Luce/ACLS Early Career Fellowships and Travel Grants in China Studies will open in August 2023 with applications due November 22, 2023, 9:00 PM EST. More details on the collaborative grants will be available in fall 2023. 
Luce/ACLS Program in China Studies