Press release
The Henry Luce Foundation Awards $750,000 to ACLS to Extend and Re-Envision Program in China Studies
New grant recognizes the success of the longstanding partnership between Luce and ACLS in supporting and growing the field of China Studies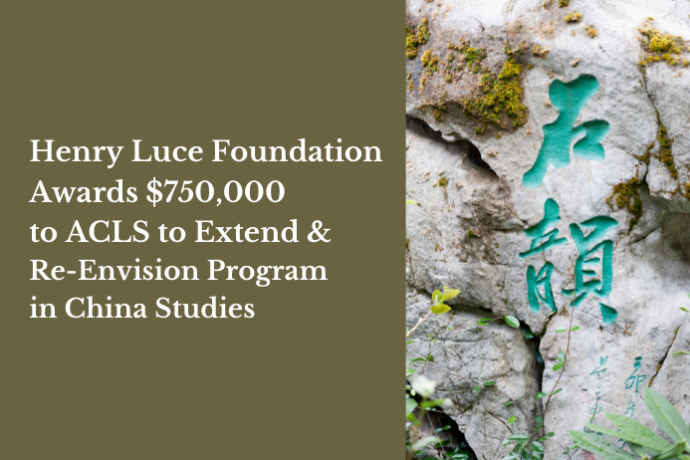 The American Council of Learned Societies (ACLS) has been awarded $750,000 from the Henry Luce Foundation to continue its fellowship program in China Studies.The new grant recognizes the success of the longstanding partnership between the Foundation and ACLS in China Studies and supports a series of convenings to assess the current state of the field and to explore how the program might be re-envisioned to meet the needs of the twenty-first century.

The Luce/ACLS Program for China Studies began in 2004 and currently offers Early Career Fellowships in China Studies. In addition to pursuing research on China's societies, histories, cultures, religions, economies, arts, environment, and technologies, the 11 outstanding fellows in the 2020-2021 cohort are participating in a new collegial mentorship program organized by ACLS, in which small teams of recent fellows share research plans and updates on progress.

"ACLS is very excited to continue our successful collaboration with the Henry Luce Foundation as we explore new ways to advance and elevate the important research represented through the field of China Studies," said ACLS president Joy Connolly. "This work represents our ongoing commitment to supporting scholarship in this increasingly vital field."

"The Luce/ACLS program aims to help reinvigorate and diversify the field by cultivating future cohorts of teacher-scholars and broadening the circulation of knowledge about China," said Helena Kolenda, Henry Luce Foundation's Program Director for Asia. "Continued scholarship on and public education about China is necessary to provide a more nuanced, three-dimensional understanding of the country and its peoples."

The next round of fellowship competitions for this program will open in August 2021.