Scholarly Resource List
Environmental Humanities Scholarly Resource List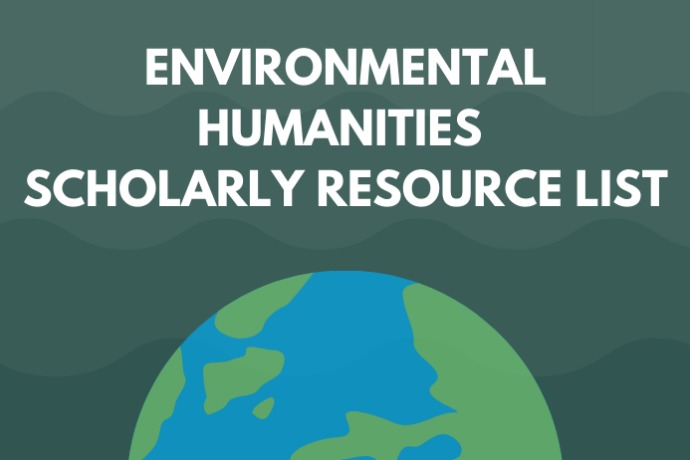 Ahead of Earth Day, ACLS is sharing scholarly resources by and recommend by our fellows and grantees that explore the environmental humanities: the intersection of the environment, climate change, and sustainability with the humanities and interpretive social sciences.
Drawing on humanities and social science disciplines that have brought qualitative analysis to bear on environmental issues, the environmental humanities engages with fundamental questions of meaning, value, responsibility and purpose in a time of rapid, and escalating, change. "Thinking Through the Environment, Unsettling the Humanities"

An introduction to the first issue of the Environmental Humanities journal by Deborah Bird Rose; Thom van Dooren; Matthew Chrulew; Stuart Cooke; Matthew Kearnes; Emily O'Gorman
These resources are an addition to a growing series, including resource pages on Asian Pacific American heritage, Black history, Disability Studies, LGBTQ+ liberation, and Indigenous studies, that are all a part of our ongoing commitment to and efforts in inclusive excellence and amplifying scholarship in the humanities and interpretive social sciences.
If you have a favorite resource – yours or another's – related to environmental humanities, please share your contributions with us at [email protected].
Scholarly Resources by ACLS Fellows & Grantees
ARTICLES
BOOKS
PODCASTS
"Hsuan L. Hsu, 'The Smell of Risk: Environmental Disparities and Olfactory Aesthetics'" – New Books Network, November 2, 2021
Features Interview with Hsuan Hsu F'18, F'12, Professor of English, University of California Davis
"Music and Environmental Justice in Nigeria" – Public Lands Podcast, February 21, 2022
Features interview with Olusegun Stephen Titus F'20, Senior Lecturer, Department of Music, Obafemi Awolowo University
"Religion and Climate Change" – The Revealer Podcast, Episode 18, October 7, 2021
Features interview with Amanda J. Baugh F'11, Associate Professor, Religious Studies, California State University, Northridge
VIDEOS
Religion and Climate Change Webinar – Hosted by the Center for the Study of Religion and American Culture
Featured panelist Amanda J. Baugh F'11, Associate Professor, Religious Studies, California State University, Northridge
WEBSITES
Archives In Common
Written by Ángeles Donoso Macaya F'21, Professor of Spanish, Borough of Manhattan Community College/CUNY; Professor of Latin American Culture and Visual Studies, The CUNY Graduate Center
Scholarly Resources Recommended by ACLS Fellows
BOOKS