Scholarly Resource List
DEI and Anti-Racism Resources from ACLS Member Societies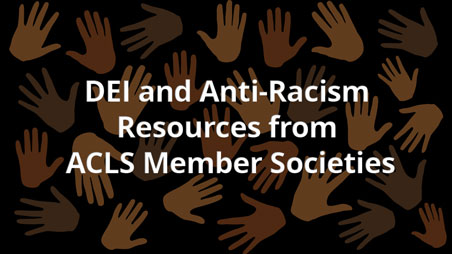 As part of ACLS's work on the North American contribution to the World Humanities Report, ACLS Vice President and Chief Operating Officer James Shuman, International Programs Officer Christine Emeran, and Executive Assistant to the Vice President/COO Jeanell Allen have asked member society leaders to submit links to DEI and anti-racism resources they've developed for their membership.
AMERICAN COUNCIL OF LEARNED SOCIETIES
AMERICAN PHILOSOPHICAL ASSOCIATION
Anti-Racist Teaching Resources
Compiled by the Committee on the Teaching of Philosophy and Committee on Inclusiveness in the Profession at the American Philosophical Association
AMERICAN SOCIETY FOR AESTHETICS
Diversity Curriculum Grants
The ASA Diversity Committee awarded two grants in 2015, three in 2016, and three in 2017 to develop curricula which would be useful in teaching aesthetics. The winning curricula, with updates for 2020, are listed here. 
DANCE STUDIES ASSOCIATION
LINGUISTICS SOCIETY OF AMERICA RESOURCES
MEDIEVAL ACADEMY OF AMERICA RESOURCES
MODERN LANGUAGE ASSOCIATION
SHAKESPEARE ASSOCIATION OF AMERICA
SOCIETY FOR CLASSICAL STUDIES