News Article
President Biden Nominates Deborah Coen F'14 to National Council on the Humanities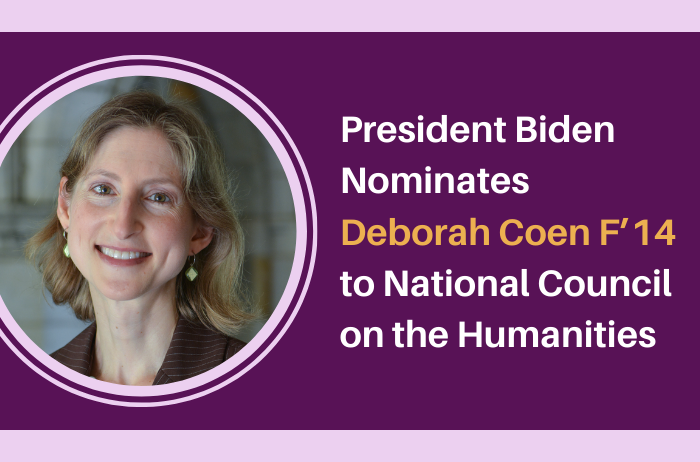 In a January 19, 2022 announcement, President Biden named Deborah R. Coen F'14 as his nominee for member of the National Council on the Humanities. Coen is Professor of History and Chair of the Program in History of Science & Medicine at Yale University, and a former faculty member at Barnard College and Columbia University.
Coen was awarded an ACLS Fellowship in 2014 for her project "Dynamic Empire: Climate and Circulation in Late Imperial Austria," which segued in to her latest book Climate in Motion: Science, Empire, and the Problem of Scale (2018). She is also the author of Vienna in the Age of Uncertainty: Science, Liberalism, and Private Life (2007), and The Earthquake Observers: Disaster Science from Lisbon to Richter (2013).
Coen earned an BA in Physics from Harvard, an MPhil in History and Philosophy of Science from Cambridge, and a PhD in History of Science from Harvard. She was a 2014 Guggenheim Fellow, and has received support from the National Science Foundation, the Cullman Center of the New York Public Library, and The Andrew W. Mellon Foundation.
Learn more about her nomination.
Discover more ACLS news and events