News Article
Donor Spotlight: Lea Wakeman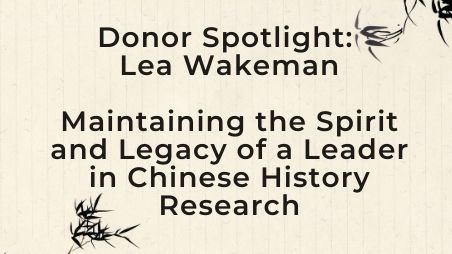 Maintaining the Spirit and Legacy of One of the Leaders in Chinese History Research
In 2017, Dr. Lea Wakeman partnered with ACLS in establishing the Frederic E. Wakeman Jr./ACLS Fellowship in Chinese History. In addition to honoring the seminal contributions of her late husband, a pre-eminent historian of modern China and longtime professor at the University of California, Berkeley, who chaired the China Studies Committee at ACLS and also served as president of the Social Science Research Council, her generous support enables ACLS to support an important and often challenging area of research: Chinese history.
"Research in modern Chinese history is particularly challenging, because it is still an obscured domain in China and the Party controls the ultimate narrative on the nation's past," Wakeman recently explained. "Several important areas are still taboo and highly controlled, such as biographies of important figures, Party history, military and intelligence history, and it is often difficult for researchers to obtain access to historical documents, files or any records of these subjects."
She praises ACLS in its ongoing commitment to financially and intellectually supporting fields of humanistic study that, in a time where technological advancements dominate discussions about advancement as well as institutional funding priorities, remain essential in furthering our understanding of humanity.
"It is through the studies of humanities and social sciences that we can better understand ourselves and be enlightened citizens of the world in the midst of global crisis," she affirmed. "In our current trying times when the world is facing unprecedented challenges ranging from biological to ideological, from racial to existential crises, the role of ACLS is all the more crucial to our society – its activities and ample programs continue to support scholars across the board, promote education and learning, and enrich our universal values, which are the foundations of our democratic society."
In addition to a financial stipend for six to 12 months for research, the Wakeman Fellowship offers fellows the opportunity to pursue their projects with local support from the History Research Institute at Shanghai Academy of Social Sciences.
The first Wakeman Fellowship, since it became permanent, was awarded to Karl Gerth F'18, Hsiu Endowed Chair in Chinese Studies and a member of the History faculty at University of California, San Diego, supporting research on how state attempts to manage consumerism during the Mao era (1949-1976) had unintended effects, instead recreating and expanding capitalist practices and bourgeois consumerism. The program has also supported Andrea S. Goldman F'19, G'13, Associate Professor of History at the University of California, Los Angeles, for research on her book The Frenchman and the Chinese Opera: Imperialism, Homoeroticism, and Transnational Masculinities in China, 1900-1950, which analyzes the construction of normative sexuality in China during that period.
An esteemed scholar in her own right, Lea Wakeman's career includes more than 20 years' experience in literature criticism, Italian and Chinese comparative literature studies, and translation of classics. Her Chinese translation of Giordano Bruno's Candelaio, published in 1998 in Beijing, is the first non-Western language translation of the Italian Renaissance play. She also served as chief editor for the English and Chinese versions of Telling Chinese History – A Selection of Essays, by her late husband, among other works.
"Often, when students and scholars in the field of humanities and social sciences are discouraged by the dominance of digital and financial giants and corporations, they begin losing their determination in pursuing their studies," she noted.
"I am heartened by the significance and the long-lasting benefit of these studies and the ongoing efforts of ACLS to sustain and elevate them. In history we seek truth and truth matters. It is particularly so when concerning Chinese history."
ACLS is grateful for Lea Wakeman's steadfast commitment to the study of Chinese history with her multiyear pledge for the establishment of the Frederic E. Wakeman, Jr. Fellowship in Chinese History, in memory of her husband.