News Article
Frederic E. Wakeman, Jr. Fellowship in Chinese History
The American Council of Learned Societies (ACLS) is pleased to announce the establishment of the Frederic E. Wakeman Jr./ACLS Fellowship in Chinese History. The fellowship recognizes the seminal contributions of Professor Wakeman (1937-2006), a pre-eminent historian of modern China and longtime professor at the University of California, Berkeley.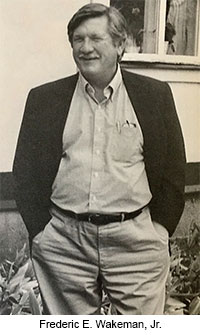 Wakeman was both a pioneering scholar of modern Chinese history and a visionary leader for the field. His seven influential books examined topics ranging from the dynastic struggles of the fourteenth century to spying in the twentieth, and beyond. He worked tirelessly to expand and improve scholarly relations with China, and chaired the China Studies Committee at ACLS. He also served as president of the Social Science Research Council. He taught at Berkeley for more than 40 years.
"I am delighted that ACLS, through the Wakeman Fellowship, will support research in the field that Fred cared about so deeply and did so much to shape," said Lea Wakeman. "I add my heartfelt thanks to all who have contributed to ACLS in his memory. You have helped make this enduring legacy possible, and I know that Fred would be deeply honored."
"We are excited to establish this fellowship honoring Fred Wakeman," said Pauline Yu, ACLS's president. "All who read his work benefitted from his deep knowledge, careful research, and critical analysis. All who knew him remember his ready collegiality, good humor, and boundless curiosity."
Fellows will be selected through the respected peer–review processes within the central ACLS Fellowship program. Awards will range from $40,000 to $70,000, depending on the career stage of the fellow, and support six to twelve months of research and writing. In addition, awardees will be invited to present their research in China at the History Institute of the Shanghai Academy of Social Sciences, with travel expenses covered.
The application deadline is September 27, 2017 for the 2017-18 competition.