Monthly Community Message
ACLS Community Message for March 2021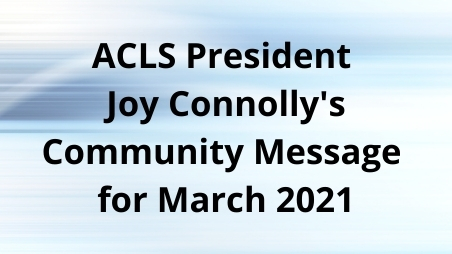 Last week NASA named the landing site of the Perseverance Mars rover after Octavia E. Butler, renowned novelist and essayist. As a long-time fan of her work I'm delighted. I hope this will spur the International Astronomical Union Working Group for Interplanetary System Nomenclature to honor her, a Black woman writer of science fiction, with a mountain or a riverbed, as they've done for Isaac Asimov and Frank Herbert. It is a fitting moment to celebrate a writer who explored like none other the heights and the depths to which pandemic and racial prejudice can push the human species.
In a 1995 speech called "The Monophobic Response," Butler remarked on the predominant mood of terror and hostility infusing popular representations of human-alien encounters. She interpreted it as an expression of our inability "to get along with those aliens closest to us, those aliens who are, of course, ourselves." What we need, she declared, is to cultivate our cooperative imagination – to develop habits of curiosity and understanding that will encourage "E pluribus unum at last, a oneness focused on, and in a sense fertilized by the certain knowledge of alien others" – that is, of our fellow human beings.
Just as Butler started publishing in the early 1970s, scholars around the world were working to make the study of women and gender and sexuality – "alien others" at the time – legitimate areas of humanistic scholarship and teaching. They set up networks of collaboration and mentoring, new journals, and academic societies. They fought the isolation suffered by women who found themselves the lone female faculty member in the department or on the committee, called for equity in pay and promotion, and opened up key questions about how faculty are hired and evaluated.
As I look hopefully toward post-pandemic life, rereading my favorite Butler and learning about new developments in women's history by our fellows (including some fascinating research on Butler's influence), I'm keeping my eyes trained on the insights of Butler and those 1970s organizers for change. As the last year has shown, we are still fighting many of their battles.
Here's a taste of our work together. Thirty-one executive directors of our member societies will meet next month in our first Mellon-funded Intention Foundry, run by Program Officer Jovonne Bickerstaff. Our fellowship competitions are running smoothly thanks to the persistence and care of the directors and staff in US Programs and International Programs. VP James Shulman and I are welcoming participants to the action-for-change-oriented Luce Design Workshop for a New Academy. We continue to work with nearly 40 deans in our Consortium member universities on embedding the next round of Emerging Voices Fellows in post-doctoral positions. And we proudly stand by the faculty in Kansas and Iowa where tenure has come under attack in new legislation.
My colleagues at ACLS make all this possible, and I want to celebrate their extraordinary accomplishments as we approach the anniversary of a year of remote work. On their behalf, and on behalf of all the scholars ACLS is proud to support, I thank you for your generosity and trust as we seek out the best approaches to advancing scholarship. And I look forward to a time we can safely gather.

Joy Connolly
President