Press release
ACLS Names 2023 Leading Edge Fellows
Seventeen Early-Career PhDs to Join Nonprofit Organizations to Advance Social Justice Initiatives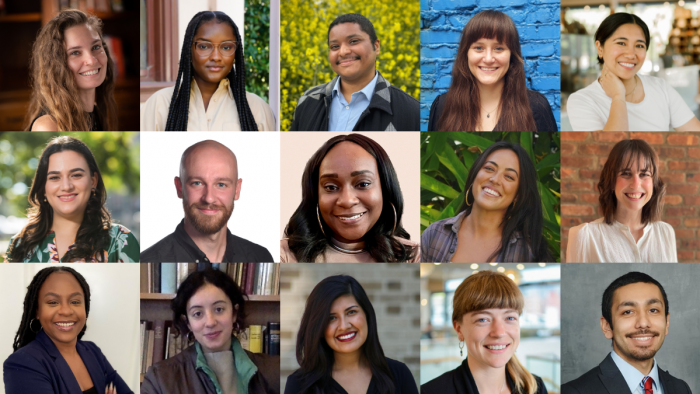 The American Council of Learned Societies (ACLS) is pleased to name 17 new ACLS Leading Edge Fellows. This community-engaged humanities initiative demonstrates the capacity of humanistic knowledge and methods to help advance justice and equity in society. The program is made possible by a grant from the Mellon Foundation.
The ACLS Leading Edge Fellowship Program supports outstanding early-career PhDs in the humanities and interpretive social sciences as they work with social justice organizations in communities across the United States. In 2023, fellows will take up two-year positions with a range of nonprofit organizations including Campaign for Southern Equality, PolicyLink, Thurgood Marshall College Fund, and Asian Americans Advancing Justice-AAJC. Using skills developed in earning their PhDs, fellows will build capacity through research and data analysis, program and learning evaluation, and communications. Many will engage community members in advocacy and participatory action research projects, including efforts to support trans-inclusive policies in youth-serving institutions, increase access to the arts for underserved communities, narrow the digital divide for Indigenous communities in the rural United States, and protect access to reproductive care.
Meet the new Leading Edge Fellows and learn about their work.
"ACLS is excited to introduce this impressive group of Leading Edge Fellows. Through their hands-on efforts in communities across the country, they will demonstrate the power of humanistic knowledge and inquiry to create meaningful change in the world beyond campus," said Desiree Barron-Callaci, ACLS Senior Program Officer for US Programs. "In collaboration with their host organizations, fellows will illuminate and amplify the diverse spaces where knowledge and the vision of a better world can be created, shared, and sustained."
The 2023 fellows represent a wide array of humanistic disciplines, including anthropology, communication, English literature, Hispanic and Luso-Brazilian studies, and US history. They hail from 16 different institutions, including Clark Atlanta University, Georgia State University, the University of Kentucky, and the University of Pittsburgh.
Leading Edge Fellows receive a $66,000 stipend in the first year, $70,000 in the second, plus health insurance. The award also comes with an annual budget of up to $3,500 for professional development activities, as well as networking, mentorship, and career development resources provided by ACLS.
Explore the Work of ACLS Leading Edge Fellows