Press release
ACLS Introduces the Leadership Institute for a New Academy
Pilot Program Brings Promising Faculty Leaders Together to Forge Career Paths in Higher Education Administration to Strengthen the Humanities and Drive Forward-Looking Change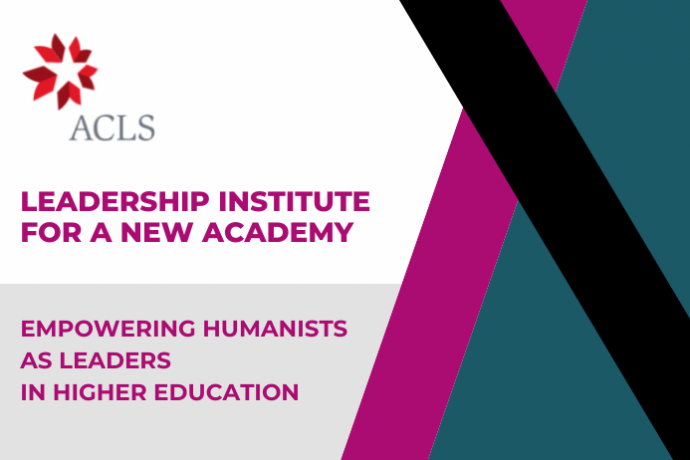 The American Council of Learned Societies (ACLS) is proud to introduce the new Leadership Institute for a New Academy (LINA), made possible through generous funding from the Mellon Foundation. The new program is designed to equip humanists forging career paths in academic administration with the skills, insights, and networks needed to strengthen the humanities and drive forward-looking change in academia.
During its pilot year, LINA will galvanize current and recent administrators who share strong academic values and a commitment to accelerating transformational changes that reflect the professional needs and aspirations of scholars today. This year's work will help develop a multi-year program for change-oriented faculty who are considering administrative roles at the dean level.
LINA participants hail from a broad range of 56 colleges and universities in North America. Among them, 37 are from public universities and 29 are scholars of color. Participating institutions include Amherst College; City College of New York; Frederick Community College; Prairie View A&M University; Princeton University; Universidad del Sagrado Corazon; University of California, Davis; and the University of Oklahoma.
"For many, the word 'change' can sound intimidating or utopian. Through LINA, ACLS aims to encourage and empower faculty-turned-administrators to use leadership roles as springboards for change, rather than maintainers of the status quo," said ACLS President Joy Connolly. "LINA will harness the energy of faculty who share our vision of a more creative, dynamic, inclusive, equitable academy – many of whom are already making a difference – and position them to lead beyond their classrooms and departments. The strong peer network LINA will build will serve them well beyond the workshop stage and continue to grow with them in their careers."
From January to June 2023, LINA participants will explore critical topics including the challenges of collaborative leadership; translating change from the local to the school and systems level; rethinking faculty reward structures and what counts as legitimate scholarship; expanding undergraduate study of humanistic disciplines; and techniques for balancing the multiple demands of administration, scholarship, and life beyond work. The program will also provide participants with a cohort of mutual support and a forum to collectively reflect on and respond to challenges like retaining faculty of color, curricular and disciplinary change, and the allocation of institutional resources. This peer community will serve as a vital resource from which participants may draw support for sustainable change.
A concept developed out of several years of consultation with and feedback from the ACLS Associate Member network, made up of more than 200 colleges, universities, and libraries across the United States, LINA aims to recruit change-committed faculty, particularly from traditionally underrepresented groups, to administrative ranks. The program will directly address the fact that many strong scholars and passionate advocates for change have been reluctant to take on roles as institutional leaders.
LINA is the latest initiative contributing to the multi-faceted ACLS change acceleration strategy to work with others to advance a more dynamic, creative, diverse, and equitable academy. The program complements existing efforts including the Mellon-funded Intention Foundry, the Luce Design Workshop for a New Academy, Path to Open, and the Mellon- and NEH-funded Commission on Fostering and Sustaining Diverse Digital Scholarship.