News Article
ACLS Fellows Longlisted for 2023 National Book Awards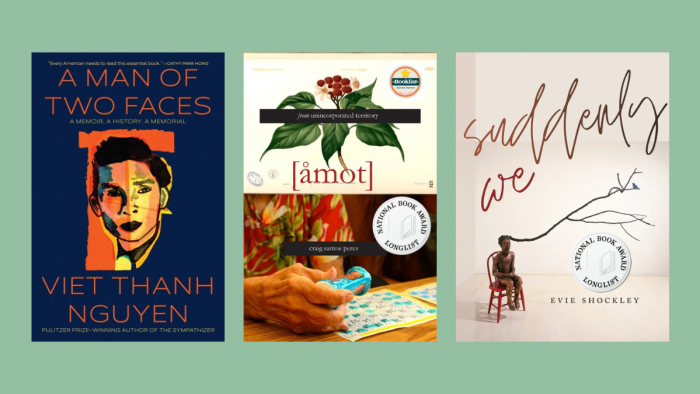 On September 14, 2023, the National Book Foundation announced the longlists for the 2023 National Book Awards, including books by three ACLS fellows. A Man of Two Faces: A Memoir, A History, A Memorial (Grove Atlantic) by Viet Thanh Nguyen F'11 has been named a top ten contender in the nonfiction category. from unincorporated territory [åmot] (Omnidawn Publishing) by Craig Santos Perez F'20 and suddenly we (Wesleyan University Press) by Evie Shockley F'07 are both longlisted for the 2023 National Book Award for Poetry.
Viet Thanh Nguyen F'11 is a University Professor, Aerol Arnold Chair of English, and Professor of English, American Studies and Ethnicity, and Comparative Literature at the University of Southern California. He was awarded an ACLS Fellowship for the project "Memory and the Viet Nam War: A Multicultural, International, and Interdisciplinary Approach." His debut novel, The Sympathizer, won the Pulitzer Prize and Dayton Literary Peace Prize.
Craig Santos Perez F'20 is a Professor in the English Department at the University of Hawaiʻi, Mānoa, where he teaches creative writing, eco-poetry, and Pacific literature. He was awarded a 2020 Mellon/ACLS Scholars and Society Fellowship for the project "Climate Change, Environmental Poetry, and the Public Humanities in Hawaiʻi," partnering with the Pacific Writers' Connection.
Evie Shockley F'07 is the Zora Neale Hurston Distinguished Professor of English at Rutgers University. She was awarded an ACLS Fellowship in 2007 for her project "Renegade Poetics: Black Aesthetics and Formal Innovation in African American Poetry." She has been named a finalist for the Pulitzer Prize, and awarded the Hurston/Wright Legacy Award and the Lannan Literary Award for Poetry, among other honors.
See the full 2023 National Book Awards longlist for nonfiction and poetry.
Related News