News Article
ACLS at the 2022 National Humanities Conference
ACLS staff and representatives of our community met at the 2022 National Humanities Conference (NHC) in Los Angeles, including ACLS President Joy Connolly, who serves as a member of the National Humanities Alliance Board of Directors. Executive directors of ACLS member societies, past fellows, and community members presented and moderated key sessions during the conference. In conjunction with the event, the US Programs team hosted a pre-conference convening with Mellon/ACLS Scholars and Society Fellows and graduate students from their institutions.
The conference, run by the Federation of State Humanities Councils and the National Humanities Alliance, brought together representatives from colleges, universities, state humanities councils, cultural institutions, and other community-based organizations to explore approaches to deepening the public's engagement with the humanities.
Conference themes included navigating "divisive concepts" in public education, engaging diverse communities in public humanities through programs such as community archiving, and preparing humanities undergraduate and graduate students for careers. Attendees also got to hear from Shelly Lowe, the newly-appointed Chair of the National Endowment for the Humanities (NEH). She shared her vision for the NEH, noting that "Democracy demands wisdom, and the humanities help to bring that wisdom forward."
2022 National Humanities Conference Highlights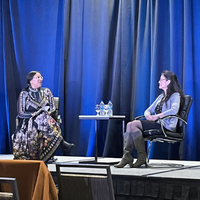 NEH Chair Shelly Lowe (right) in conversation with Indigenous activist and educator endawnis Spears
Amy Ferrer, Executive Director of the American Philosophical Association presents at NHC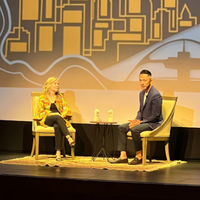 Viet Than Nguyen F'11 (right) in conversation with Susan Straight
Jasmine Alinder F'09, F'97, Dean of Humanities at the University of California, Santa Cruz speaks at NHC
Capps Lecture: A Conversation with Viet Thanh Nguyen F'11 & Susan Straight
The 2022 Capps Lecture featured Viet Thanh Nguyen F'11 in conversation with novelist Susan Straight. They discussed their approaches to writing and shared stories about how their lives and bringing influence their work. Viet Thanh Nguyen's debut novel, The Sympathizer, won the Pulitzer Prize and Dayton Literary Peace Prize.
Confronting Challenges to the Liberal Arts
Several representatives from ACLS member societies and affiliate institutions led this panel exploring contemporary challenges to liberal arts on college and university campuses and the ways in which organizations and institutions engaged in humanities advocacy can respond to these challenges. Panelists included James Grossman, Executive Director, American Historical Association, Paula Krebs, Executive Director, Modern Language Association of America, and Frederick Lawrence, Secretary and CEO, Phi Beta Kappa Society.
Connecting Humanities Undergraduates with Community Projects and Future Careers
Jasmine Alinder F'09, F'97, Dean of Humanities at the University of California, Santa Cruz and recent participant in the Luce Design Workshop for A New Academy, shared insights from the Undergraduate Public Fellowship program at The Humanities Institute at UC Santa Cruz (THI). Faculty, staff, and students reflected on ways to continue developing these types of experiential learning and professional training opportunities to demonstrate the value of humanities degrees in a variety of careers.
Other members of the ACLS community that presented at the conference include:
ACLS Events and Activities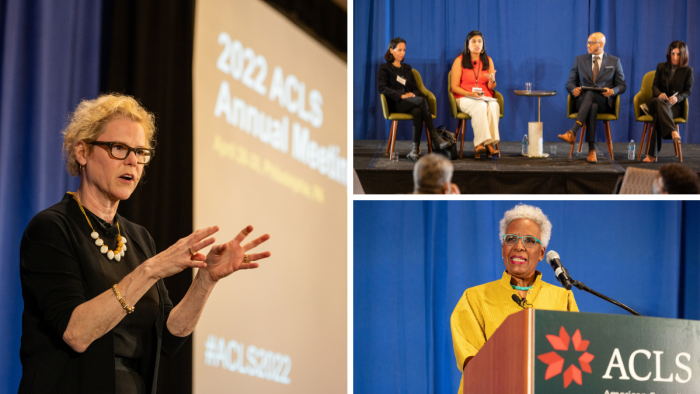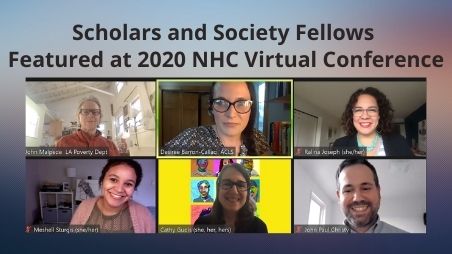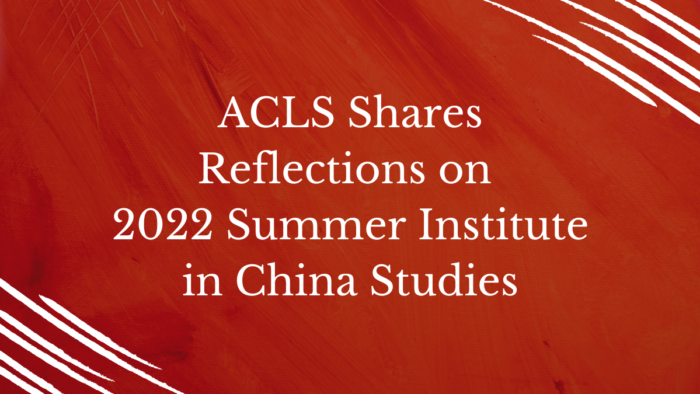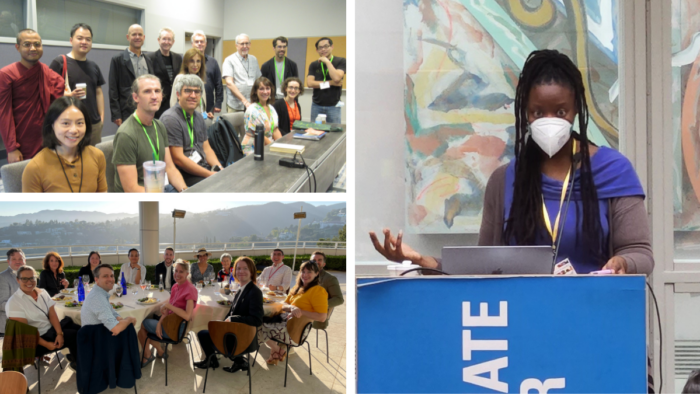 Sign Up to Learn More