News Article
Scholars and Society Fellows Featured at 2020 NHC Virtual Conference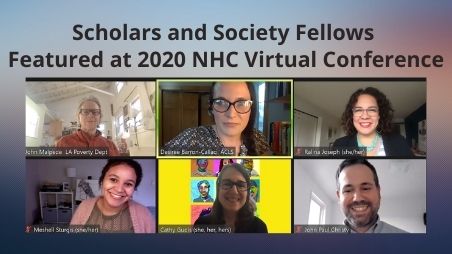 The National Humanities Conference is a much-anticipated annual event that brings higher education institutions, state humanities councils, cultural and community-based organizations together to explore approaches to deepening the public's engagement with the humanities.
This year, as with many events, the conference took place virtually, November 6, 10, 12, and 13, 2020. One of the highlights of the convening was a panel discussion, "Museums on the Move: Curating Community & Engaging the Future," which featured two fellows from the inaugural cohort of the
Mellon/ACLS Scholars and Society program
, along with representatives from their host organizations, sharing about their collaborations,
Interrupting Privilege
with the
Northwest African American Museum
in Seattle, and
Skid Row, By Design
with the
Los Angeles Poverty Department
, a performance ensemble founded in 1985 and the first in the nation made up principally of homeless people
.
The Scholars and Society Fellowship awards support for humanities faculty who teach and mentor doctoral students to conduct year-long research projects with nonprofit and community-based organizations. One goal of the program is for fellows to develop and use relationship-building skills to help strengthen the networks between their campuses and wider communities. These networks are critical for the public humanities as they help early career scholars learn to engage meaningfully and ethically with the public. This program also contributes to the
ACLS 2020-2024 Strategic Priority
to encourage scholarship responsive to diverse audiences, "increasing the dynamism of knowledge creation and sharing by amplifying the knowledge created in places beyond traditional academia." 
Both
Interrupting Privilege
and
Skid Row, By Design
demonstrate the unique potential of the community museum as a space not only for the preservation and presentation of humanistic knowledge, but for the collaborative creation of knowledge in spaces of community, healing, and hope. 
Ralina Joseph F'19
, Professor of Communication at the University of Washington, along with UW Communications PhD Candidate Meshell Sturgis, and the Executive Director of the Northwest African American Museum (NAAM), LaNesha DeBardelaban, presented their work on the
Interrupting Privilege
project, "an intergenerational, skills-building, anti-racism space of dialogue and critique that is both research project and class." 
The project continues and has moved to a virtual format in the era of COVID-19, centering on the theme of Black community care. Said Dr. Joseph, "While this has become something vastly different than we thought that it would be, because of the commitment of our community members, because of the commitment of our partners at NAAM, it has changed into something that has felt valuable and necessary in this moment." 
Ms. DeBardelaban spoke to the project's unique vitality and relevance to the museum's goals. "The partnership we have with Dr. Joseph and Meshell Sturgis and
Interrupting Privilege
means so much to us. They are doing powerful and visionary work with this project. The NAAM is a site of critical conversation and community building, and the
Interrupting Privilege
program has been a natural fit for our mission since day one of this partnership.
Interrupting
Privilege has offered transformational experiences for our community that fuels our mission into the community. NAAM centers Black lives in all that we do, and
Interrupting Privilege
is one of the ways that we do it
."
Skid Row, By Design
was presented by
Catherine Gudis F'19
, Associate Professor of History at University of California Riverside, and John Malpede, founding artistic director of the Los Angeles Poverty Department. This multi-tiered collaborative project with Los Angeles Poverty Department's Skid Row History Museum & Archive (SRHMA) aimed to illuminate the deep historical roots and community activism shaping the 50 blocks of this impoverished area of downtown Los Angeles. 
Malpede noted that the Los Angeles Poverty Departmentwas formed to "create community on Skid Row and to get the real deal out to Normalville." The performance group's large archive of planning documents, articles, videos, oral histories, and more is housed at the Skid Row History Museum and Archives (SRHMA). 
"LA Poverty Department and The Skid Row History Museum really model the ways in which public humanists can morally work in activist arenas," said Professor Gudis, who served as 'Historian in Residence' at the SRHMA. "How can [museums] act as spaces of engagement and intervening in politics as usual…but also the ways that we move across these different arenas, and interrupt dominant modes of cultural expression?" 
When asked which elements of their public humanities experience could most enrich 'traditional' academic training, particularly for humanities graduate students, Meshell Sturgis pointed to her experience as a graduate student researcher and collaborator on
Interrupting Privilege
. "It's teaching me a lot about how to translate my work for different audiences and keep myself flexible. Radical listening…is something I am able to take with me into my dissertation." 
LAPD/SRHM:
https://www.lapovertydept.org/skid-row-history-museum-archive/
NAAM:
https://www.naamnw.org/