Haskins Lecture
The 2002 Charles Homer Haskins Lecture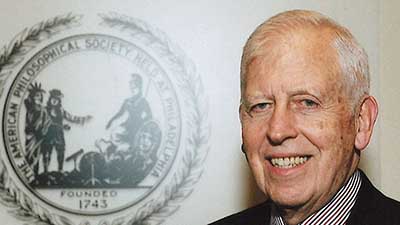 Henry A. Millon, born in Altoona, Pennsylvania, in 1927, is the second of three sons. His father was an aerial photographer; his mother, a daughter of the publisher of a French language newspaper in New York. In March 1944 he entered a U.S. Navy ROTC program at Tulane University where, after active duty in 1946, he returned to obtain sequential undergraduate degrees in English, Physics, and Architecture. Thereafter he attended Harvard University where he received a Master's in Architecture and Urban Design, and a Master's and Ph.D. in History of Art. After three years in Italy as a Fulbright Fellow and a Fellow of the American Academy in Rome preparing a dissertation, he returned to Cambridge in 1960 to teach at MIT, where he continues as a Visiting Professor. From 1974 to 1977 he was Director of the American Academy in Rome. In 1980 he became the first Dean of the Center for Advanced Study in the Visual Arts of the National Gallery of Art, a post held until his retirement at the close of 2000.
Professor Millon's work has concentrated on the history of architecture. His publications include Baroque and Rococo Architecture (1961), Key Monuments of the History of Architecture (1964), Filippo Juvarra: Drawings from the Roman Period, Part I (1984), Part II, with A. Griseri, S. McPhee, and M. Viale Ferrero (1999), three exhibition catalogues, Michelangelo Architect, with C.H. Smyth (1988), The Renaissance from Brunelleschi to Michelangelo, with V. Lampugnani (1994), The Triumph of the Baroque (1999), and numerous articles.
Millon has held grants from the American Council of Learned Societies, the National Endowment for the Humanities, the Institute for Advanced Study, the Getty Research Institute, and the Fulbright Program. He has received awards from the American Institute of Architects; Academie des sciences morale et politique, Institut de France; and the College Art Association.
Millon served as President, Society of Architectural Historians; Convenor, Architectural Drawings Advisory Group; President, Foundation for Documents of Architecture; Scientific Secretary, Thesarus Artis Universalis Working Group of the International Committee for the History of Art; Vice-Chair, Council on American Overseas Research Centers; Chair, Dumbarton Oaks Senior Fellows Committee, Program in History of Landscape Architecture; President, International Union of Academies of Archaeology, History and History of Art in Rome; President, University Film Study Center; Vice-Chair, Boston Landmarks Commission, and Co-Chair, Advisory Committee, Cambridge Architectural Historical Survey. He currently serves as Curator, American Philosophical Society.
The 2002 Charles Homer Haskins Lecture