Haskins Lecture
The 1991 Charles Homer Haskins Lecture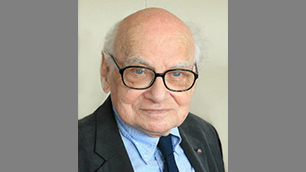 Milton Babbitt, the 1991 Charles Homer Haskins Lecturer, was born in 1916 in Philadelphia. He was educated in the public schools of Jackson, Mississippi, and at New York and Princeton Universities. His primary teacher of musical composition was Roger Sessions, with whom he studied privately for three years.
He was the William Shubael Conant Professor Emeritus at Princeton University, where his teaching career began in 1938, including three years as a member of the mathematics faculty, from 1942-45. A co-founder and member of the Committee of Direction, Columbia-Princeton Electronic Music Center, since 1959, Professor Babbitt has been a Visiting Professor at the Rubin Academy at Jerusalem, the University of Wisconsin, and Composer-in-Residence at New York University. He has taught, conducted seminars, and lectured at various universities and schools of music in this country and in Austria, Australia, Canada, England, Germany (Darmstadt), and Mexico. He is a member of the American Academy of Arts and Letters, and a fellow of the American Academy of Arts and Sciences.
His honors include: two New York Music Critics Circle Citations (1949, 1964); National Institute of Arts and Letters Award (1959); Brandeis University Gold Medal (1970); National Music Award (1976); Pulitzer Prize Special Citation (1982); George Peabody Medal (1983); MacArthur Fellow (1986-91); Gold Medal in Music of the American Academy-Institute of Arts and Letters; Music Award of the Mississippi Institute of Arts and Letters; and Guggenheim Fellow. He has received honorary degrees from Middlebury College, New York University, Swarthmore College, New England Conservatory, University of Glasgow, Northwestern University, Brandeis University, and Princeton University.
The 1991 Charles Homer Haskins Lecture