Press release
American Council of Learned Societies Announces Winners of 2023 ACLS Fellowships
Sixty Early-Career Scholars Recognized for Excellence in Humanistic Scholarship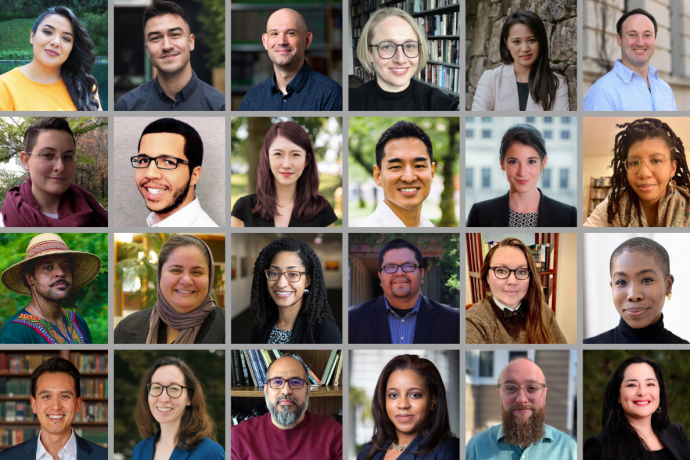 The American Council of Learned Societies (ACLS) is pleased to announce this year's recipients of the ACLS Fellowships.
The ACLS Fellowship Program supports exceptional scholarship in the humanities and interpretive social sciences that has the potential to make significant contributions within and beyond the awardees' fields. For 2023, the program will award more than $3.8 million in research support to 60 scholars selected through a multi-stage peer review from a pool of nearly 1,200 applicants.
Learn more about the 2023 ACLS Fellows and their projects.
"With higher education under sustained attack around the country, ACLS is proud to support this diverse cohort of emerging scholars as they work to increase understanding of our connected human histories, cultures, and experiences," said ACLS President Joy Connolly. "ACLS Fellowships are investments in an inclusive future where scholars are free to pursue rigorous, unflinching humanistic research."
ACLS Fellowships are investments in an inclusive future where scholars are free to pursue rigorous, unflinching humanistic research. ACLS President Joy Connolly
ACLS has reserved these central, endowment-funded fellowships exclusively for early-career, untenured scholars for a third year, as part of its response to the continued impact of the COVID-19 pandemic. ACLS Fellowships provide between $30,000 and $60,000 to support scholars during six to 12 months of sustained research and writing. Awardees who do not hold tenure-track faculty appointments – half of the 2023 cohort – also receive an additional $7,500 stipend for research or other personal costs incurred during their award term.
The 2023 fellows represent a range of higher education institutions, including research universities, liberal arts colleges, regional comprehensive universities, and a tribal community college. Their projects investigate diverse aspects of human culture and society from around the world: a sociological investigation of water and biodiversity crises in California; an exploration of the political connections between Black liberation struggles in the United States and anticolonial movements in Korea; a study of the Quechua Huarochiri manuscript that illuminates the complex dynamics of translating Indigenous language texts; and a nuanced history of local responses to the Atlantic slave trade and European colonization in the West African community of Peki that draws on collaborative archaeology, archival sources, and oral traditions.
The ACLS Fellowship Program is funded primarily by the ACLS endowment, which has benefited from contributions by the Mellon Foundation, Arcadia Charitable Trust, the National Endowment for the Humanities, the ACLS Research University Consortium, ACLS Associate member network, and the generous gifts of fellows and friends of ACLS.