Statements
ACLS Remembers Pauline Saliga
The recently retired executive director of the Society of Architectural Historians has passed away.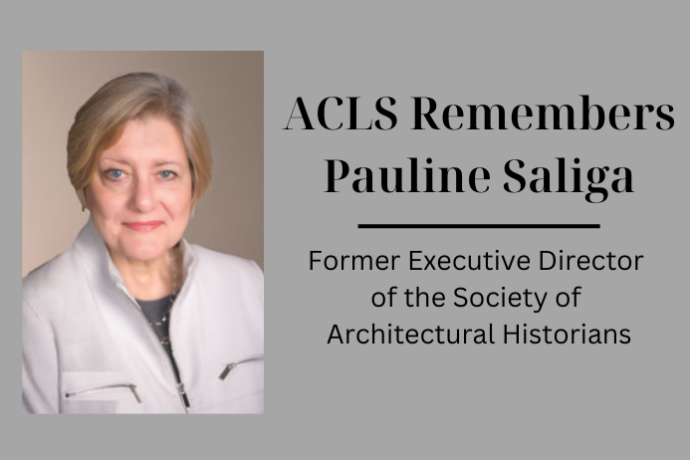 With great sadness, we note that Pauline Saliga, the recently retired, long-standing executive director of the Society of Architectural Historians (SAH), passed away on September 11, 2022, after a brief illness.
During her tenure at SAH Pauline was an active and supportive member of the ACLS Council of Executive Officers, on which she served from 2010-2013, and provided valuable insights, time, and resources to the group and wider ACLS community. In December 2020, she served as moderator of "How Do We Get There? Accelerating Diversity in Slow-To-Change Humanities Fields," one of the first in the ACLS Humanistic Knowledge in the 21st Century public events series. For the panel, she called on her own experience with SAH in actively addressing ways to advance diversity in that field, "putting everything on the table, so that we can carefully take things apart and reassemble to serve equity culture."
Pauline became executive director of the Society of Architectural Historians and the Charnley-Persky House Museum Foundation in 1995. As noted by SAH, "During her 27-year tenure, the Society became a truly international association and a leader in the digital humanities. Her legacy includes educational resources such as SAH Archipedia and SAHARA, the SAH Inclusion Diversity Equity Accountability and Sustainability initiative, new Affiliate Groups serving communities within and beyond our membership, programs supporting graduate students and emerging professionals, and an extraordinary staff who support SAH's mission and membership. Pauline was beloved and valued across our community for her vision, her brilliance, and her graciousness."
ACLS President Joy Connolly noted, "Pauline was so generous with her time and expertise. Throughout my tenure at ACLS, I've heard many people in different sectors of the academy express thanks for her work, her support, or both. She will be greatly missed."
Pauline earned a graduate degree in art history and museum administration from the University of Michigan and her research focused on nineteenth- and twentieth-century American architecture and its international precedents and influences. Her 18-year curatorial career included tenures as Assistant Curator at the Museum of Contemporary Art in Chicago and Associate Curator in the Department of Architecture at The Art Institute of Chicago. While at the Art Institute, she organized numerous exhibitions and catalogues focusing on American and European architecture including Fragments of Chicago's Past; Building in a New Spain: Contemporary Spanish Architecture; and Design for the Continuous Present: The Architecture of Bruce Goff, 1904-1982.
We offer our deepest condolences to Pauline's family. At their request, donations may be made to the Pauline Saliga Fund, which was recently established in her honor. The fund supports SAH's technology expenses and recognizes Pauline's achievements as a visionary proponent for new technologies in the digital humanities. Donations can be made online or by mail: Society of Architectural Historians, 1365 N Astor Street, Chicago, IL, 60610.