News Article
Fellows Reflect On Their Experiences as First-Generation Scholars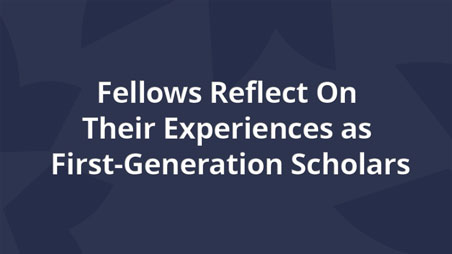 As outlined in our 2020-2024 Strategic Priorities, American Council of Learned Societies (ACLS) has doubled down on its commitment to expanding and diversifying higher education, recognizing it as crucial to the future of humanities and social sciences. Supporting underrepresented and underserved groups is central to this work.
One key group are those who are the first members of their families to complete a four-year college degree. Not only are these "first-gen" undergraduate students an increasingly visible and vocal presence on college and university campuses, but a growing number of faculty members and graduate students who identify as first-gen are also standing up to advocate for the unique strengths and needs of this community. As the common phrase goes, "once a first-gen, always a first-gen."
The Mellon/ACLS Dissertation Completion Program (DCF), generously sponsored by a grant from the Andrew W. Mellon Foundation, is one of many ACLS programs providing support to early-career scholars, including scholars who identify as first-gen. Since 2007, this program has offered fellowships that support a year of research and writing to help advanced graduate students in the humanities and related social sciences in the last year of PhD dissertation writing.
In recent years, ACLS has invited applicants to self-report information on their backgrounds including their race and ethnicity, disability, veteran status, and first-generation college status, in order to aid ACLS in our efforts to better understand the needs of applicants and create responsive programs to support the success of our fellows. Among the 64 graduate students that were awarded the DCF in 2020, more than 25% identify as "first-gen."
At ACLS, we believe that the lived experiences of first-gen scholars and other underrepresented groups are powerful resources. These scholars lift up important perspectives that can compel the academy to be more inclusive and create a more expansive vision of what higher education can and should be.
We recently asked a few graduate students from the latest cohort of DCF fellows to reflect on their current work and their unique journeys as first-generation students.
---
Xiomara Cornejo F'20
Doctoral Candidate
Theatre and Performance Studies
University of Missouri
Research: The Performance and Puppet of Saint Oscar Romero in Post-Revolution Nicaragua: Transnational Solidarity between Bread and Puppet Theater and the Farm Worker's Theater Movement (MECATE)
Being a first-gen student and child of immigrant parents, Xiomara Cornejo's research is inspired by her family's rich Salvadoran culture and her experience as a theater artist.
"Receiving the DCF Fellowship has positively impacted my role as an artist-scholar, specifically by validating my ethnographic research and artistic scholarship in the protest theater history of Central America as a legitimate and critical area of study in the academy. I feel a personal responsibility to enhance my research skills, make my study accessible to others, and continue producing work as an ethnographer and artist-scholar. This fellowship motivates me to examine my role as a researcher and educator beyond the dissertation and consider ways to support other artist-scholars throughout my career."
"Once I learned more about ACLS, I was impressed with the many opportunities of support provided to fields in the humanities around the world," says Cornejo, recalling what drew her to apply for DCF.
"I whole-heartedly believed in the core values of ACLS, specifically their belief that knowledge is a public good and is an incredible asset in understanding our complex and diverse world. As a scholar in theater and performance studies, I knew ACLS would value arts scholarship as a legitimate source of knowledge and felt it was worth applying."
For Cornejo, the humanities and higher education offers the opportunity for continuous learning. "I enjoy surrounding myself with other scholars and artists who feed my soul, inspire, and challenge my work. In academia there is never a dull moment because the learning process is never-ending. Being part of higher education and the humanities can offer one exposure to other like-minded people who are also interested in examining the complexities and beauty of the human spirit. Being part of the humanities means you are in good company."
---
Michael Obiri-Yeboah F'20
Doctoral Candidate
Linguistics
University of California, San Diego
Research: Phonetics and Phonology of Gua
Michael Obiri-Yeboah's research focuses on phonology, anthropological linguistics, and language documentation of Gua, an undocumented and endangered language of Ghana.
Of his experience applying for DCF, he recalls, "I thought I wasn't going to be successful as an international student… I wrote [ACLS] to find out if this program was accepting applications [and] received positive feedback from a member of the ACLS staff who told me about the upcoming application openings, so I had it in my plans to apply."
"The Mellon/ACLS Dissertation Completion Fellowship provides me the opportunity to be free from teaching for a year to concentrate on writing my dissertation towards a timely completion [and] has really empowered me to prepare for the task ahead in my teaching, research, and career."
---
Juneisy Quintana Hawkins F'20
Doctoral Candidate
History
New York University
Research: Informal Anglo-Spanish Food Trade in the Colonial American Southeast, 1704-1763
Juneisy Quintana Hawkins cites the DCF's portability as beneficial to her as a first-generation scholar.
"Unlike many other year-long pre-doctoral fellowships, DCF is not residential and did not require me to relocate to where the institution is located," she explained. "Oftentimes, residential fellowships put financial pressure on first-generation students who are already struggling to make ends meet. This also affects students with families or less able-bodied students."
"I have learned more about my own values and my own biases in the years I have been in graduate school than in all the prior years combined," she continues.
"Learning how and why we got from 'there' to 'here' as people allows us to better understand current socio-cultural-political issues. Individual by individual, a humanistic education leads to a better informed, more empathetic society."