Monthly Community Message
ACLS President Joy Connolly's Community Message for November 2020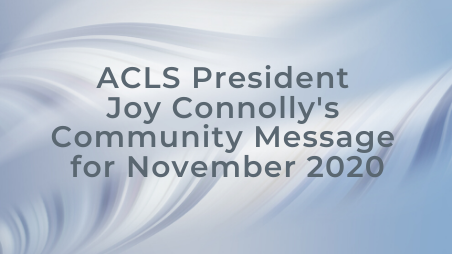 Warm greetings to all as we look ahead, like so many others, to next week's presidential election – to see "our country moving closer to its own truth and dread," as Adrienne Rich puts it in "What Kind of Times Are These." While we await the outcome, there is plenty of good work to occupy us.
From early reports, the 45 ACLS Emerging Voices Fellows are doing well in their new positions around the country. We are already deep in planning the next competition and anticipate posting updated information later in November. Your interest is much appreciated: do please check the website for updates before emailing us.
We are delighted to announce a major new grant from The Andrew W. Mellon Foundation to support up to 40 fellows in ACLS's Leading Edge program, which began as a COVID-19 emergency response earlier this year. The Mellon-sponsored Leading Edge fellowships will support some of the most promising emerging scholars in the country, recognized for their innovative humanities research and passion for social justice. Fellows will partner with local and national nonprofits to pursue year-long publicly engaged projects advancing initiatives focused on equity and inclusion, civic participation, and anti-racist policies and practices in communities.
Let me remind all readers that the Leading Edge program is currently accepting applications for its second phase, funded as part of a $1.6 million grant by the Henry Luce Foundation. Recent PhDs pursuing research in religion, theology, and ethics are encouraged to apply for fellowship opportunities to work with nonprofit partners across the country on publicly engaged projects that document the impact of the COVID-19 pandemic on communities and advance collective understanding of the conditions that helped worsened that impact, such as inequality, increasing precarity, divisive media, and racism. The deadline for applications for the phase two fellowships is Monday, November 2, 2020, 9 pm EST. The first phase, also made possible by the Luce Foundation, awarded five fellowships in September 2020 to emerging scholars in art history and visual culture to work on community focused programs documenting and interpreting the devastation of the pandemic in hard hit communities.
Speaking of community: ACLS Associate members are an assembly of dozens of institutions that make up the backbone of American higher education. For most of its history, the network has included a small number of schools that primarily serve students of color, such as Howard University. We are very happy to welcome three new members, all HBCUs: Prairie View A&M University, North Carolina Central University, and North Carolina A&T State University. Mary Richter, in her new role as Chief Development Officer, joins me in expressing gratitude for the time generously given us by administrators and faculty at these schools and at other HBCUs and HSIs with whom we are currently exploring membership. To recognize the key role of these institutions in American life, ACLS is offering five years of membership at no cost. As we deepen our relationship in the coming months and years, we most look forward to hearing ideas from HBCU and HSI faculty and graduate students about how best ACLS can support the humanities and humanistic social sciences at their institutions.
Linda Kerber, May Brodbeck Professor of the College of Liberal Arts and Sciences and Professor Emerita of History at the University of Iowa, is delivering the Charles Homer Haskins lecture later today. Hers will be the thirty-eighth in the Haskins Prize series, which is named in honor of the first chairman of the American Council of Learned Societies. The speaker is chosen by the Executive Committee of the Delegates to ACLS.
We live in a moment when Americans are deeply divided over how to understand their own history – indeed, over what counts as historical fact. No better time to honor Professor Kerber, who writes with clarity, accuracy, and urgent eloquence about the shaping of our present:
Does everyone who has in their minds the image of Grant generously permitting Lee and his officers to keep their swords and horses after surrender also know that within months, the obstinate denial of the full citizenship of black people throughout the white South—by new statutes, by intimidation, violence, and rape—would lead Congress to expand the authority of the Freedmen's Bureau to try by military commissions those who denied the civil rights of freedmen…and then, less than two years after Appomattox, to divide virtually all the former Confederacy into five military districts in which army commanders were empowered to protect property and the public peace? Do they know that there were substantial areas on the margins of the Old Confederacy where white people carefully avoided letting black people know that slavery had ended and continued their lives as before? Misreadings of how slavery and its aftermath were experienced play into current ways of addressing race. Erasures of the past limit the options available in the future.
While the nation awaits Election Day, many in both parties feel heightened anxiety; I find hope for the future in the example of Professor Kerber's powerful scholarly voice and the voices of the countless scholars and students she has influenced.
With best wishes for your continued health and flourishing,


Joy Connolly