Press release
ACLS Names 2020 Leading Edge Fellows to Advance COVID-19 Community Initiatives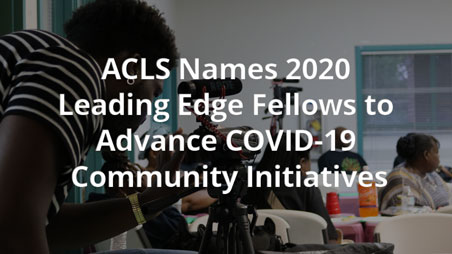 The American Council of Learned Societies (ACLS) has proudly named the 2020 Leading Edge Fellows. 
ACLS launched the $1.6 million rapid-response fellowship, generously sponsored by the Henry Luce Foundation, to galvanize the power of humanities scholarship and training in addressing critical challenges facing communities hard hit by the COVID-19 pandemic. Each fellow will partner with a non-profit organization on publicly engaged projects that document and respond to the damage the COVID-19 pandemic has wreaked and that advance collective understanding of the societal fault lines that helped worsen its impact, notably inequality, increasing precarity, divisive media, and racism. 
The 2020 Leading Edge Fellows and their projects are:
Juliana Rowen Barton PhD, History of Art, University of Pennsylvania
Center for Craft (Asheville, NC)
Craft in Virtual Spaces
Developing and contributing to a portfolio of virtual community engagement initiatives intended to increase the value and relevance of craft to society, with a particular focus on advancing, documenting, and measuring the impact of the Craft Futures Fund, the Center's COVID-19 response grants.
Raino Isto, PhD, Art History and Archaeology, University of Maryland
Educational Video Center (New York, NY) 
Amplifying the Youth Artist Activist Archive
Amplifying youth voices on critical social justice issues by increasing the visibility of EVC's rich archive of youth-produced documentary films created over the last three decades and empowering students and alumni of the program with enhanced media and documentary programming.
Aisha Motlani, PhD, Art History, Northwestern University
Arts Alliance Illinois (Chicago, IL)
Researching Relief: Policy and Civic Engagement
Drawing on state, local, and national data sources and undertaking primary research on Illinois' creative sector to guide the organization's policy and programs in COVID-19 relief, arts education, and overall social impact, as well as its ongoing value assessment of arts and culture.
Levi Prombaum, PhD, History of Art, University College London
MASS MoCA (North Adams, MA)
Centering Care in the Arts
Contributing to the MASS MoCA/Massachusetts College of Liberal Arts (MCLA) Care Syllabus, which aims to generate civic discourse and public engagement through accessible and free online programming focused on the needs of local community members and nearby urban populations affected by COVID-19.
Emily Buhrow Rogers, PhD, Sociocultural Anthropology, Indiana University Bloomington
Smithsonian Center for Folklife and Cultural Heritage (Washington, DC) 
Chronicling Community Artists during COVID-19
Researching community artists' responses to COVID-19 outside the United States and developing multimedia content including interviews, artist profiles, reports from the field, in-depth explorations into specific cultural expressions, and pieces that connect current events to relevant traditions for Smithsonian Folklife Magazine and as occasional broadcast pieces for National Public Radio. 

"At a time when early-career PhDs in the humanities and related social sciences have so much to offer the world, and while they face the most challenging job market in a generation, ACLS is pleased to partner with the Luce Foundation to provide opportunities to support these scholars while also making positive contributions to hard hit communities," said Joy Connolly, ACLS President. "Look at the fields studied by suffragists and civil rights leaders: history, philosophy, the whole range of studies ACLS represents. Humanistic scholarship has always played an essential role in creating and interpreting social change. The impacts of COVID-19 will be present for years to come, and these important projects will only increase in value as new generations learn about and from this challenging moment in history." 
"The Luce Foundation congratulates this first group of Leading Edge Fellows in art history and visual culture," said Mariko Silver, President of the Luce Foundation. "They exemplify the civic commitment that the humanities inspire in students and scholars. And the work they do with and on behalf of communities demonstrates the critical contributions that humanists can make during this time of national crisis."
The five awardees represent the first cohort in this two-year public scholarship initiative. The second cycle of the program will place up to 10 scholars in religion, theology, and ethics with organizations for work starting in early 2021. ACLS will begin accepting applications for these fellowships in October 2020. 
Part of a larger grant from the Luce Foundation, the Leading Edge Fellowship program will be complemented by a series of innovative workshops designing new practices and structures for academia in the wake of the pandemic.
Leading Edge Fellows receive a $60,000 stipend, health insurance, and professional development funding. In addition to leading community-focused projects for their host organizations, fellows participate in a variety of professional development and networking activities and are encouraged to apply the experiences of their 12-month placements to future work in the academy and beyond.
The Henry Luce Foundation seeks to enrich public discourse by promoting innovative scholarship, cultivating new leaders, and fostering international understanding. Established in 1936 by Henry R. Luce, the co-founder and editor-in-chief of Time, Inc., the Luce Foundation advances its mission through grantmaking and leadership programs in the fields of Asia, higher education, religion and theology, art, and public policy.
Formed in 1919, the American Council of Learned Societies (ACLS) is a nonprofit federation of 75 scholarly organizations.  As the preeminent representative of American scholarship in the humanities and related social sciences, ACLS holds a core belief that knowledge is a public good. As such, ACLS strives to promote the circulation of humanistic knowledge throughout society. In addition to stewarding and representing its member organizations, ACLS employs its $140 million endowment and $35 million annual operating budget to support scholarship in the humanities and social sciences and to advocate for the centrality of the humanities in the modern world.