Stories
Perspectives on Women's History Month: Recent ACLS Fellows Share Inspirations Driving Their Work
2020 marked a historic moment for women in the United States when Kamala Harris became the first woman elected to the White House as Vice President. It was also a year of renewed conversations around the intersection of gender, racial justice, and socio-economic issues, amidst protests and a pandemic. These moments emphasize a continued need for scholarly work and diverse, humanistic perspectives that focus on women, past and present.
For Women's History Month, ACLS reached out to recent fellows whose work documents, centers, and uplifts women. Throughout March, we will be sharing excerpts from conversations about their current projects and the importance of humanistic scholarship and public engagement that supports and celebrates women.
---
Rachel Bloom-Pojar
How does your work and research center women?
"My work centers women who are mothers, grandmothers, and community educators committed to improving women's health and advancing reproductive justice. My research focuses on promotores de salud (health promoters) who educate Latinx families about reproductive and sexual health across Wisconsin. As a Scholars and Society Fellow, I have been in residency at Planned Parenthood of Wisconsin, which hosts this program through their Community Education Department. The group of promotores is primarily made up of Latina immigrants, and their work in the community has always centered women as the key to creating and sustaining healthy communities."
Why did you decide to do this work?
"I have long been interested in learning from people who work in spaces "in between" institutions and communities. Gloria Anzaldúa's theorizing of nepantla and the borderlands had a great impact on how I think about rhetoric and communication. I believe that health professionals and researchers have a lot to learn from communities and lay people who constantly move in and out of different cultural and linguistic spaces. Their rhetorical adaptability for communicating across language differences and their ability to build trust are things that many professionals have difficulty doing."
How has your fellowship enabled you to advance this work?
"The Mellon/ACLS Scholars and Society fellowship has been integral to helping me advance this work with a feminist ethic of care as a researcher. Time off from teaching and service responsibilities has enabled me to be more present in the relationship building and deeper learning that I needed to do to for this project…Additionally, as I have navigated my first year of being a mother amid the pandemic, this time spent (virtually) in community with the promotores de salud has been a supportive and healing space for me as a woman."
---
How does your research center women?
"A long-time mentor and tribal leader advised me to be an 'expert of our community.' I took that to heart. I learned all I could about the Blackfeet people from knowledge keepers, elders, and the archives. I wrote what I learned in my second book Invisible Reality: Storytellers, Storytakers and the Supernatural World of the Blackfeet and several articles. I realized, however, how little the lives of women were reflected in histories. I decide to focus my next work on Blackfeet womanhood and Indigenous knowledge."
Why did you decide to do this work?
"As a scholar-activist, I work with Indigenous communities to revitalize Indigenous and traditional ecological knowledge (TEK), to address environmental justice and the climate crisis, and to strengthen public policy for Indigenous languages. I continue this vital work. However, I was influenced by journalist and human rights activist Sally Armstrong's book Power Shift: The Longest Revolution. She emphasized that, 'Women's history is a flawed account: the ancient past was recorded mostly by men about men. In fact, for millions of years, men and women had equal status. Then they didn't.' This is the story I want to tell."
How has your fellowship enabled you to advance this work?
"I am fortunate to be awarded a Luce/ACLS Fellowship in Religion, Journalism & International Affairs, which provides a year of research time, and funding for travel and inquiry. My research project looks at the past and the present. I am connecting historic female-focused religious practices, some lost or subdued due to Western colonization and violence, with contemporary Indigenous environmental protests and Indigenous feminisms. I am interested in how places of protest become places of rematriation and sanctification." 
---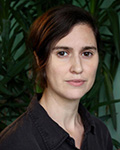 How does your work center women?
"As the ACLS Leading Edge Fellow at Breakthrough in New York, I am collaborating on the project Our Stories: In Vivid Color, a documentary film series, creative incubator, and media platform that amplifies the first-person narratives of young women and gender non-conforming youth of color across the United States and Puerto Rico, conscientiously integrating and amplifying experiences of LGBTQ+ youth…I would say that the project is exploring gender as intersectional and non-binary. So Our Stories is not so much centering the term "women" as using an intersectional feminist lens for the project of social transformation."   
Why did you decide to do this work?
"One of the questions I bring to the project is how the process of representation is intertwined with the act of representation. In the case of Our Stories, what is performed and created between the Breakthrough staff, youth collaborators, and partner organizations is the weaving of a social relation, and that process bears within it a making of an ethos, a set of values, and ethics of care. That care is woven into and shapes the parameters of what it is to enter into representation, or into different registers of visibility and articulation, including, at a very practical level, Breakthrough's commitment to racial and gender diversity on "both sides of the camera," including production staff…I feel grateful to be collaborating with a group of people who are so grounded in collective receptivity and creative exchange, and look forward to learning from the team and its many partners."
How has your fellowship enabled you to advance this work?
"The ACLS fellowship with Breakthrough has offered me the precious resource of time and space to think and create dialogues with scholars, activists, artists, and grassroots organizers. To support the Our Stories initiative, I'll be organizing a series of arts workshops and intergenerational conversations between youth collaborators, artists, activists, and scholars throughout 2021, as well as creating a literature review and a set of educational materials to support the project as it moves into the world."
Suzanne Herrera Li Puma is also the co-founder of Casitas Press, a "queer-y feminist-of-colors artist print collective who make work dispersed-yet-together," which is currently gathering members and working on their first edition.
---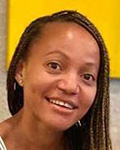 How does your research center women?
"My current research focuses on digital activism against gendered violence in South Africa and in this particular research, I foreground the voices and experiences of the women engaging in digital activism."
Why did you decide to do this work?
"I started researching feminist politics during my postgraduate studies when I came across Chandra Talpade Mohanty's essay "Under Western Eyes." I had been thinking about potential topics for my thesis and reading this article started me thinking about the politics of solidarity and the position of African women in feminism. That was 10 years ago, and I have been working on this topic ever since."
How has your fellowship enabled you to advance this work?
"I have been working on this research since 2018, and it has been very difficult to find the time to focus on it exclusively, so the ACLS fellowship has been amazing in that it has afforded me the time to focus on the research. I have been able to use the fellowship period to collate and analyze data, and to finally start writing."
---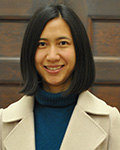 How does your research center women?
"My research explores political sociology, gender, ethnicity, labor, migration, and development from global and intersectional perspectives, particularly in the context of China's growing inequalities…Based on 15 months of fieldwork in a marginalized Qiang ethnic minority village, I documented nonmigrant, older women's daily labor practices, community and civic engagement, and their life histories. Against the dominant view that left-behind women are passive and victims of the globalizing market economy and outmigration, I develop a theoretical argument that centers on the social reproductive labor that nonmigrant Qiang women have proactively taken to provide money and help migrant workers survive the precarious urban labor markets."
Why did you decide to do this work?
"I am interested in understanding ethnic minorities' lived experiences with growing inequality and poverty under China's rapid socioeconomic transformations. This partly comes from my own life experience as an ethnic minority Qiang woman growing up in a rural area of southwest China. For preliminary dissertation fieldwork, I went back to my hometown and a village I had known since 2007 to learn about rural Qiang residents' experience with the rapidly globalizing market economy."
How has your fellowship enabled you to advance this work?
"The generous ACLS fellowship has offered me valuable academic and professional development opportunities. During the fellowship period, I have focused on writing my dissertation chapters and completing the preliminary draft."
Look for Ruijie Peng's article "Rightful Bargaining: Rural Women Making Claims in China's Targeted Poverty Alleviation Program" in the forthcoming Sociological Forum, Vol. 36, No. 3. 
---
For additional scholarly resources on Women's History Month by and recommended by ACLS fellows, see the Women's History Month Scholarly Resources Page.