News Article
ACLS Names Second Cohort of Leading Edge Fellows to Advance COVID-19 Response Initiatives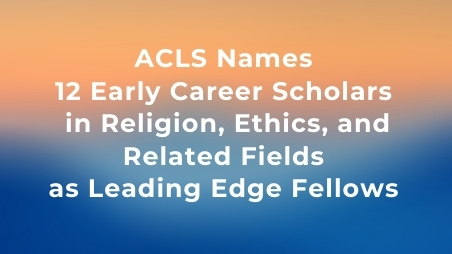 The American Council of Learned Societies (ACLS) today named 12 new Leading Edge Fellows, the second cohort of this publicly engaged humanities initiative.
In this second round of the fellowship program, 12 dynamic early career scholars whose work investigates religion, theology, and ethics have been placed with non-profit organizations for work starting in early 2021. These fellows represent a wide array of humanistic disciplines, each with their own unique approach to studying ethics and religious life, including theology, religious studies, anthropology, rhetoric, literature, and American studies. Their projects include analysis of the disparate impact COVID-19 on poor and low-income people; designing and executing advocacy projects supporting policy reforms toward a more equitable and ethical democracy; and exploring ethical considerations in COVID-19 vaccine research. This cycle's partner organizations include the Southern Poverty Law Center, African Communities Together, and the Smithsonian's National Museum of American History.
In June, ACLS launched the $1.6 million rapid-response fellowship, generously sponsored by the Henry Luce Foundation, to leverage the power of humanities scholarship and training in addressing critical challenges facing communities hard hit by the COVID-19 pandemic. Each fellow will partner with a non-profit organization on publicly engaged projects that document and respond to the damage of the COVID-19 pandemic communities and advance collective understanding of the societal fault lines that helped worsen its impact, such as inequality, increasing precarity, divisive media, and racism. Five awardees were named in the first cohort in September 2020.
Leading Edge Fellows receive a $60,000 stipend, as well as health insurance and professional development funding. In addition to leading community-focused projects for their host organizations, fellows participate in a variety of professional development and networking activities and are encouraged to apply the experiences of their 12-month placements to future work in the academy and beyond.
"In a society that tends to dismiss the social utility and value of humanistic education and habits of thought, ACLS is very pleased to extend its partnership with the Henry Luce Foundation to demonstrate the critical, practical roles of humanists outside academia," said Joy Connolly, ACLS President. "The Leading Edge Fellows will bring advanced skills in research, writing, analysis, teaching, and outreach in helping organizations across the country advance initiatives that promote equity and justice in communities hit especially hard by the COVID-19 crisis."
Looking ahead to the third cycle of the program, ACLS is currently accepting proposals from organizations interested in hosting a Leading Edge Fellows for projects beginning in September 2021. The third round of this program is supported by The Andrew W. Mellon Foundation. Learn about the RFP.