News Article
The American Council of Learned Societies Announces 2021 Mellon/ACLS Community College Faculty Fellows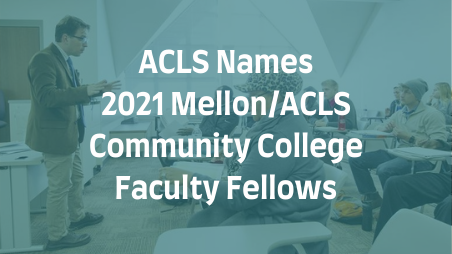 The American Council of Learned Societies (ACLS) is thrilled to name 28 new Mellon/ACLS Community College Faculty Fellows for 2021.
Now in its third year, this vital program offers faculty teaching at two-year colleges support for research, pedagogy, and community engagement projects in the humanities and interpretive social sciences. The program is made possible by a generous grant from The Andrew W. Mellon Foundation.
This year, 28 scholars will each receive up to $40,000 to advance their respective projects, which significantly expand humanistic study and knowledge. The fellows will also participate in a convening hosted by ACLS to build their cohort, share work in progress, and discuss wider issues related to the humanities in community colleges and the impact of COVID-19.
"Community colleges are invaluable sites for deep student engagement with the humanities, with over one-third of the nation's undergraduates enrolled," said ACLS President Joy Connolly. "With the generous support of the Mellon Foundation, we are pleased to announce the third cohort of Community College Faculty Fellows, who bring mission-driven pedagogy and critical humanistic research to diverse student bodies and communities across the country."
This diverse cohort of fellows, more than 60% of whom identify as scholars of color, represent 21 community colleges around the country, and their supported projects encompass a wide range of disciplines, topics, and methodologies. Projects include:
A study of visual narratives in North Africa's Amazigh cinema
An oral history examining how restaurants and food markets shape the social, economic, and political development of Asian communities in Dallas
An analysis of narrative structures used by authors during diverse epidemics in Colonial Mexico as a means of narrating hope in difficult times
The creation of an undergraduate textbook about the anthropology of human space exploration
A series of public programs at the Weeksville Heritage Center telling the histories of abolitionists in Brooklyn and the 19th-century free Black community that shaped its streets and neighborhoods.