News Article
American Council of Learned Societies Names 60 New ACLS Fellows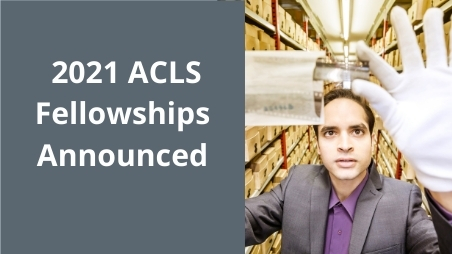 The American Council of Learned Societies (ACLS), the preeminent representative of American scholarship in the humanities and related social sciences, is pleased to announce the winners of the 2021 ACLS Fellowships.
The longest running program in the organization's portfolio, the ACLS Fellowship program supports outstanding scholarship in the humanities and humanistic social sciences with the potential to make significant contributions to knowledge within and across fields. Fellowships totaling nearly $3.6 million have been awarded to 60 scholars selected from nearly 1,300 applicants through a multi-stage peer review process.
For this competition year, in the wake of the widespread disruption of the COVID-19 pandemic and its ongoing economic impact, ACLS has focused its resources exclusively on early-career, non-tenured scholars, many of whom are facing extraordinary obstacles to advancing their research in these times. For the first time in the history of the program, half of the 2021 awardees do not hold tenure track positions.
"ACLS is deeply proud to support emerging scholars of special promise and to advance important research representing perspectives on the human experience that have traditionally been marginalized," said ACLS President Joy Connolly. "With more than forty per cent of the 2021 ACLS Fellows identifying as scholars of color and a third as first-generation college students, we are excited to continue our work in forging paths of opportunity and models of inclusive excellence in humanistic scholarship."
ACLS Fellowship awards provide $30,000 to $60,000 to support scholars during six to 12 months of research leave. Awardees who do not hold tenure-track faculty appointments during the fellowship year also receive a $5,000 stipend for research and other costs incurred during that period.
The supported research projects represent an exciting diversity of fields of study including a history of gender-variant individuals who have made a lasting impact on the creation of the internet from the 1960s to 1990s; a study of the contributions of Black women in 21st century Brazilian urban cultural production; and an exploration of collaboratively-written Hopi autobiographies during the Indian assimilation era from the late 19th to early 20th centuries.
The ACLS Fellowship program is funded primarily by ACLS's endowment, which has benefited from the generous support of esteemed institutions and individuals including The Andrew W. Mellon Foundation, Arcadia Charitable Trust, the National Endowment for the Humanities, the ACLS Research University Consortium and college and university Associates, past fellows, and friends of ACLS.