Press release
ACLS Names 2023 Fellows and Grantees of The Robert H. N. Ho Family Foundation Program in Buddhist Studies
More Than $1.1 Million Awarded to Scholars and Institutions Worldwide for Research, Writing, Translation, and Teaching in Buddhist Studies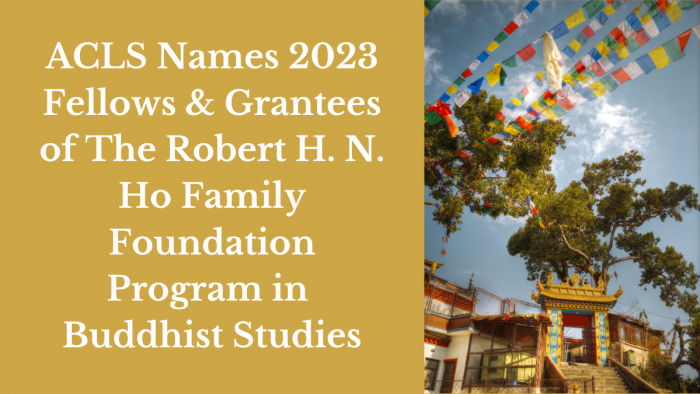 The American Council of Learned Societies (ACLS) is pleased to announce the 2023 awardees of The Robert H. N. Ho Family Foundation Program in Buddhist Studies. The program offers fellowships and grants that expand the understanding and interpretation of Buddhist thought in scholarship and society, as well as strengthens international networks of Buddhist studies.
This year's fellows and grantees include one institution and 20 scholars located in ten countries across Asia, Europe, and North America. Their projects showcase a rich diversity of languages, historical periods, and locations of research, reflecting the wide variety of Buddhist traditions around the world.
"The Robert H. N. Ho Family Foundation Program in Buddhist Studies plays a vital role in supporting scholars and institutions advancing understanding of this rich and complex religious tradition and its influence on culture and society," said ACLS President Joy Connolly. "ACLS is proud to recognize these outstanding scholars at various stages in their careers. We're thrilled that the University of Utah has chosen to foster a new professorship in Buddhist Studies, advancing knowledge of this tradition across the Utah community of students, scholars, and the public."
In 2021, ACLS was awarded a $6.3 million grant extension by The Robert H. N. Ho Family Foundation Global to continue the Program in Buddhist Studies, and increase and diversify applicant pools to better reflect the communities of scholars of Buddhism worldwide. The grant also established the new Buddhism Public Scholars initiative, which will announce its next cohort of fellows in summer 2023.