Statements
ACLS Applauds the Nobel Committee for Recognizing Ukrainian, Russian and Belarusian Activists with 2022 Peace Prizes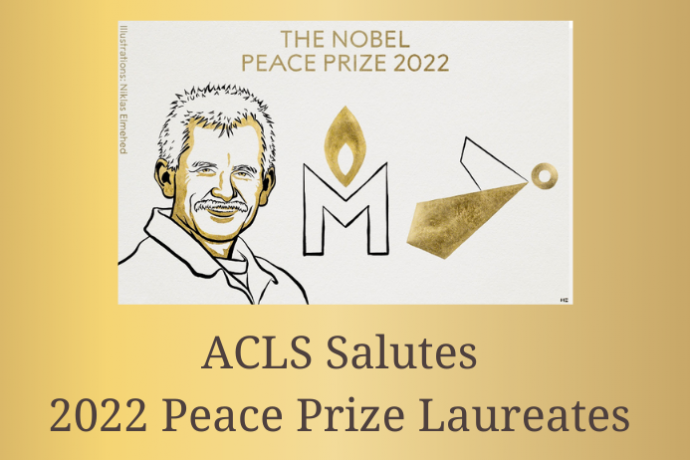 On Friday, October 7, 2022, the Norwegian Nobel Committee recognized human rights activists in Belarus, Russia, and Ukraine with the 2022 Nobel Peace Prize: Ales Bialiatski from Belarus, Russian human rights organization Memorial, and Ukrainian human rights organization Center for Civil Liberties. As advocates of fields of study that promote and advance understanding of humanity and society, ACLS applauds this momentous selection.
"At a time when war and division dominate headlines and conversation about eastern Europe, it is heartening to see the celebration on the world stage of efforts by people and institutions dedicated to promoting the humanistic values of justice and compassion, as well as free speech and opposition to authoritarian aggression," said ACLS president Joy Connolly.
ACLS has a long history of engagement in the region in fostering and advancing humanistic scholars and research. In these prize selections, we hear an echo of the International Association for the Humanities (IAH), a learned society born out of the ACLS Humanities Program in Belarus, Russia, and Ukraine (1998-2014), made possible by funding from the Carnegie Corporation of New York. Through this and other programs over several decades ACLS has supported hundreds of scholars from each of these countries and throughout eastern Europe and helped to solidify a vibrant community of scholars.
ACLS salutes these latest Peace Prize laureates!
Summer Institute for the Study of East Central and Southeastern Europe
In July 2023, in partnership with the Centre for Advanced Study Sofia, ACLS will host the first of three annual cohorts in the Summer Institute for the Study of East Central and Southeastern Europe.
This two-week residency is based at the American University in Bulgaria, and open to scholars from Belarus, Russia, and Ukraine, as well as Albania, Bosnia and Herzegovina, Bulgaria, Czechia, Croatia, Hungary, Kosovo, Moldova, Montenegro, North Macedonia, Poland, Romania, Serbia, Slovakia, Slovenia, and North America.
The program, made possible thanks to a generous donation by Carl and Betty Pforzheimer, offers opportunities to undertake archival research, work in museum collections, conduct interviews and site surveys, and more in a collaborative and interdisciplinary setting.
Applications for the Summer 2023 residency are being accepted through December 1, 2022.
Learn More and Apply