Staff
Morgan Day
Program Associate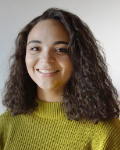 Morgan Day is a Program Associate in International Programs. Before joining
ACLS, she worked in field organizing, as well as provided basic literacy and
English literacy tutoring to adult learners. She graduated from Eastern
Michigan University in 2019 with a Bachelor of Arts in both German Language
and Literature and International Relations. After graduating, she received a
Fulbright English Teaching Scholarship and taught English in a middle school
in Berlin, Germany.