2008, 2010
Zoe Trodd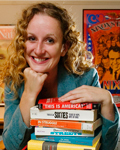 Never the New World: American Protest Literature, the Politics of Form, and the Reusable Past of Abolitionism
Organized around six protest movements and their literature, 1867-2007, this dissertation shows protest texts adapting abolitionist aesthetics. It identifies an abolitionist politics of form, then traces six elements of that form across the protest literature of woman's rights, labor, anti-lynching, civil rights, black power, and modern anti-slavery/human trafficking. Positioning the literary abolitionists as primary ancestors for modern protest aesthetics, it examines the role of historical memory in creating protest literature. It shows protest writers and artists working against the myth of American history and literature as a series of fresh starts, of America as a perpetual New World. The politics of memory emerges in American protest literature as tightly bound to the politics of form.
PhD, History of American Civilization, Harvard University appointed in English and Comparative Literature and the Institute for Research in African-American Studies at Columbia University
Dissertation: "The Reusable Past: Abolitionist Aesthetics in the Protest Literature of the Long Civil Rights Movement"