2021
Victoria Isabelle Rizo Lenshyn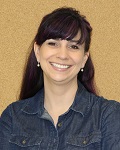 Dissertation Abstract
"Bridging Contradictions: Socialist Actresses and Star Culture in East Germany"

In this dissertation, I argue that multiple stakeholders in East Germany (GDR)—the fans, artists, and state— adapted the star phenomenon to help validate GDR socialist culture at home and abroad, and to bridge seemingly contradictory elements within the dualistic context of the global Cold War: the individual and collective, the ordinary and extraordinary, idealism and reality, the past and present, tradition and progress, East and West. As public figures, GDR stars offered audiences multiple points of identification and helped the enlarged working class navigate its new dominant social position in GDR social life. Officially, stars offered an engaging performance of the "well-rounded" socialist personality through versatility, accessibility, and the values of work, community, and strength.
I present three case studies of female actresses who achieved film, television, and theater stardom in the 1960s-70s East Germany. In the first, "Jutta Hoffmann and the Dialectics of Happiness: A Socialist Star in Close Up," I examine Hoffmann's image of a youthful, white European, heterosexual woman as depicting a one-dimensional femininity. As a Brechtian actress, however, her dialectical performances initiated discussions among censors and fans about class conflict, sexual orientation, gender inequality, and sexual pleasure. In the second, "Angelica Domröse and the Politics of Desire: More Than Just a Pretty Face," I argue that her screen and stage performances bridged the fractured self, a symptom of split realities between the private and public in a society that declared an already achieved equality of the sexes and emancipation of the working class. As a sex icon, she engaged politics of desire that paralleled real-life desires for personal fulfillment, love, and health. In the third, "The People's Actress and Comedienne Agnes Kraus: 'An Original Berliner with Heart and Soul,'" I argue that Kraus's stardom problematized intersecting social issues like the housing shortage, abortion, racial prejudices, gender disparities, and generational differences. Kraus broached difficult topics through a rather simplified comedic figure shaped by a seemingly simple genre. Rather than presenting ideological or individual shortcomings, she presented problems society must always endeavor to work through together.