2014, 2017
Ulug Kuzuoglu
Doctoral Candidate
Columbia University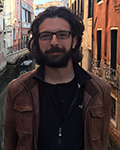 Inventing the Mind: Colonial Psychology and Minority Script Reforms, 1950s to 1960s
My research explores how studies of the human mind have affected greater state policies concerning the reform of ethnic minorities' languages and scripts in the People's Republic of China in the 1950s and 60s. After the PRC was founded in 1949, hundreds of psychologists and linguists made their ways into the fringes of the nation and established "Psychological Committees" next to "Language and Script Committees." They engineered new scripts for the minorities and launched large-scale literacy campaigns. Examining the orthographic tumult in Xinjiang when the Arabic script of the Turco-Muslim minorities was first Cyrillized in 1956, then Romanized in 1964, and then re-Arabized again in 1982, my research investigates how psychological research informed the implementation of script reforms.
Overcome by Information: Psychogrammatology and Technopolitics of Script Invention in China, 1892-1986
This dissertation explores the global history of Chinese script reforms from the 1890s to the 1980s. During this period, Chinese intellectuals identified the Chinese logographic writing system as the primary reason for backwardness, and re-engineered the Chinese script to fit the demands of the modern information age. This project demonstrates that Chinese script reform was part of a global history of knowledge economy, in which the management and optimization of clerical and mental labor through innovations in writing technologies were key concerns for modernizing economies. Examining Chinese as well as Russian, American, and Turkic scientists who were instrumental in giving a final shape to the Chinese script, this dissertation interrogates the historical interface between humans and information technologies.