2021
Tarrell Campbell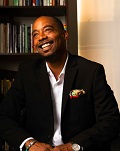 Dissertation Abstract
"Wounded Brown Masculinities in Recent Novels by Percival "Everett, Colson Whitehead, Michael Thomas, and John Edgar Everett, Colson Whitehead, Michael Thomas, and John Edgar
Wideman"

The advent of the Black Arts Movement of the 1960s-1970s followed the passage of Brown v. Board of Education (1954). While of great value as concerns African American social, political, cultural, and literary history, the Black Arts Movement also exposed a great rift within African American literary communities as regards gender roles, patriarchy, and the American Dream: critically speaking, some black men and black women separated into competing camps, exposing a great intellectual divide within the production of African American literature and literary criticism. Sherley Anne Williams refers to such a situation as "the separatist tendency" in African American literature. In the attempt to find resolution to the separatist tendency, Williams addresses the importance of examining African American male protagonists and the worlds that they inhabit. In today's world, she writes, "What is needed is a thoroughgoing examination of male images in the works of black male writers" (qtd. in Napier 222). In responding to the call of Williams, Wounded Brown Masculinities examines male images in some recent, twenty-first century novels by African American male novelists produced between 2001 and 2008 with the explicit purpose of adding to conversations centered on alleviating the negative effects of the separatist tendency. Wounded Brown Masculinities combines critical feminist (and men's studies) perspectives with analyses of: Percival Everett's erasure and Colson Whitehead's John Henry Days, both published in 2001; Michael Thomas's Man Gone Down, published in 2007; and, John Edgar Wideman's Fanon, published in 2008. The literary generative uses of the wounded black male body as presented in these novels function as social criticism as regards the influences of Brown. Furthermore, the novels selected for Wounded Brown Masculinities have been chosen specifically because they feature African American male protagonists whose experiences as damaged individuals are uniquely connected to consequences associated with Brown. As writers, I examine how the characters are portrayed as they give voices to their respective experiences. The characters' present and future abilities to heal and to overcome instances of traumatic wounding are increasingly in conflict with their respective understandings of past histories. Also, the characters endure oppression that is exacerbated and furthered according to the dictates of an economic determinism that understands human beings as commodified objects. The African American protagonists at the center of Wounded Brown Masculinities struggle as regards masculinist performances and the commodification of their subjectivities.
Projected Benefits
Wounded Brown Masculinities adds to conversations centered on "rebel[lion] against the established practice of pigeonholing the black experience" (Everett qtd. in Weixlmann xv). In our contemporary moment, it is ever critical that we recognize the diverse experiences and perspectives of our fellow American citizens. Wounded Brown Masculinities is a siren call for those of the post-Brown generations. Wounded Brown Masculinities will be of great use to students and scholars of Literature, Black Study, African American Studies, Diaspora Studies, Critical Theory, and History.