2011, 2022
Svetlana A. Peshkova
Associate Professor
University of New Hampshire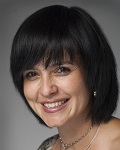 Public Life in Private Space: Religion and Change in the Ferghana Valley
This project explores Muslin women's leadership and post-Soviet Central Asia's Ferghana Valley, two sensationalized but poorly understood subjects. It describes the everyday lives of local Muslim women teachers and leaders, their feelings about being Muslim, and their visions of social change. By analyzing these women's roles in religious renewal in the region, this study educates readers and Muslim women's leadership, history, and the sociocultural diversity of post-Soviet Central Asia. It also challenges existing assumptions about Islam as an oppressive and inherently violent religion. As a result, it presents a more complete post-Soviet social history of the region and provides a corrective to a common perception of the region as a source of religious radicalism.
BIPOC Monumentality in New Hampshire (Host Institution: University of New Hampshire)
BIPOC Monumentality in New Hampshire will revitalize projects shared by the University of New Hampshire and two important local partners, the Black Heritage Trail of New Hampshire and the Indigenous New Hampshire Collaborative Collective that have faced setbacks caused by the pandemic. These projects center on a variety of monuments and related activities in the state of New Hampshire devoted to the history and cultural presence of underrepresented communities and include markers, story maps, land connections, and conversations. Monuments, in this conception, are not only created to commemorate the past but also to activate BIPOC lived experiences, resilience, and knowledge in the present as we confront challenges of the future (social justice, climate change). Project funding will flow to research, creation and installation of monuments and markers and support of staffing positions otherwise not fundable, all with the aim of building stronger communities.