2014
Steven Collins
Professor
University of Chicago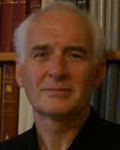 Abstract
Steven Collins, Chester D. Tripp Professor in the Humanities and in South Asian Languages and Civilizations at the University of Chicago and a Council member of the Pali Text Society will be the Robert H. N. Ho Family Visiting Professor in Buddhist Studies at Arizona State University during spring of 2016. Professor Collins is an eminent scholar of Pali Buddhist literature whose presence on campus will make unique intellectual contributions by teaching an undergraduate course, presenting a series of public lectures within the context of a graduate seminar and organizing a week-long workshop for college teachers in Buddhist Studies.

In the undergraduate course, Professor Collins will introduce undergraduate students at a large public university to the study of Buddhism. Among the assigned readings are his now-standard work Selfless Persons: imagery and thought in Theravāda Buddhism (CUP, 1982 and still in print) and also his recently authored undergraduate textbook (Nirvana: concept, imagery, narrative, CUP, 2010).



Professor Collins will present four public lectures to academic audiences in the humanities on his current research, entitled Askesis and Civilization: Pali Practices of the Self. The public lectures will engender discussions on the relationship between ascetic practice and civilization in Buddhist literature, history and the implication for this line of inquiry for the academic study of religions and cultures more broadly conceived. This lecture series will engage faculty and graduate students in religious studies, history, philosophy and related audiences in the humanities.



His recently published collection of essays (Self and Society: Essays in Pali Literature 1988-2010, Silkworm, 2013) serves as the basis for his graduate seminar and focuses on thematic and contextual comparisons on Buddhist traditions across Asia, providing a forum for discussing approaches to the study of Buddhist practices (e.g. meditation, ordination, ritual giving, reform movements) and thematic linkages across Buddhist traditions (e.g. Buddhist institutions and kingship, Buddhism's interactions with other religions, Buddhism and peace studies).



A week-long workshop examines recent developments in the study of Theravada Buddhism and will create new networks among participants who are scholars of Buddhism at institutions that do not grant doctoral degrees in this field.



Professor Collins' presence on campus will engender intellectual exchanges around themes in his work on self and society, disciplining the self, and the sociology and cultures of asceticism. Adding the perspective of Pali language and literature, which has not been taught before at this university, will create trans-disciplinary conversations with colleagues at ASU who specialize in Chinese Buddhism, modern Korean Buddhism, Buddhist practices in Southeast Asia, interactions of Buddhism and Daoism, Chinese and Japanese art, and Sanskrit literature.



Juliane Schober, Professor of Religious Studies and an anthropologist of Buddhism in Southeast Asia, will be his primary collaborator. Collins and Schober will continue their collaboration on editing a series of volumes arising from the Theravada Civilizations Project and funded by the Henry Luce Foundation.