2009, 2012
Sarah A. Cramsey
Doctoral Candidate
University of California, Berkeley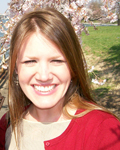 Saying Kaddish in Czechoslovakia: Memorialization and the Work of Hana Volavkova
Presented at The World Jewish Congress, Jerusalem, Israel, August 1-4, 2009.
Uncertain Citizenship: Czechs, Poles, and the Jewish People, 1938-1948
How did liberals, once the strongest proponents of integration and minority rights, come to think of Jews as a separate ethnic identity excluded from European citizenship? This project traces how a particular idea of Jewish identity evolved, asking when and how Polish and Czech liberals became convinced that Europe could not shelter the Jews. The questions that drive this research touch on fundamental ideas about the meaning of citizenship and ethnic identity in the modern period. This dissertation promises to view the decade between 1938 and 1948 from a novel, comparative vantage point while positioning this period as a penultimate moment in a broader story of Jewish citizenship in modern Europe.