2015, 2021
Samuel Ng
Assistant Professor
Smith College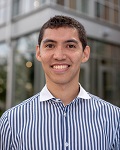 Embodying Pain: The Politics of Black Mourning in the United States, 1917-1955
Public expressions of mourning came to constitute a central means of generating mass black politics in the United States during the first half of the twentieth century. Black activists responded to the outbreak of racial violence that swept the country from 1917 to 1923 by performing and inhabiting on a large, public scale the very bodily trauma they protested. Politicized mourning offered them an effective means of expanding the reach and scope of the black freedom struggle in the Jim Crow United States, one that proved itself particularly available to black women, who were often left behind to mourn the deaths of their husbands, sons, and friends while at the same time being excluded from leadership positions in mainstream organizations.
Assemblies of Sorrow: The Politics of Black Mourning in the United States, 1917–1955
This project examines the emergence and development of mourning as a viable basis for mass Black political organizing and protest in the United States during the first half of the twentieth century. "Mourning" refers to the various efforts of African American activists to respond to anti-Black violence by generating large, public performances of spirituality, silence, stillness, sacrifice, and lamentation that enabled them to embody and display the very trauma they resisted. Through these mourning practices, activists fostered and expanded conceptions of Black belonging that were centered on feelings of collective endangerment. They galvanized white and Black participants and witnesses to debate, criticize, and revise normative representations and enactments of anti-Black violence.