2016
Rachel Sinsheimer Vandagriff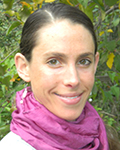 Position Description
The Center for Investigative Reporting (CIR) is the nation's first independent, nonprofit, nonpartisan media organization dedicated to preserving democracy through fact-based investigative journalism. We follow stories wherever they lead and are not beholden to outside interests. CIR's reporting reveals injustice, with a focus on government and corporate accountability, human rights, environmental and human health, veterans affairs, national security, and domestic surveillance.

The Membership Engagement Manager will be a key member of CIR's engagement and distribution team. This position will lead the development of CIR's membership strategy, program, and activities.
As a member of CIR's innovative engagement team, s/he will develop and manage CIR's membership program, working closely with staff across the organization. The Membership Engagement Manager will also assist in revamping and improving CIR's membership program following the recent launch of our weekly public radio show and podcast, Reveal. This will include developing marketing messaging and materials and producing events, in collaboration with CIR's director of events. S/he will also play an important role in crafting regular communications with members and prospective members through the Reveal website and social media networks.