2021
Pavithra Tantrigoda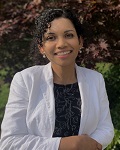 Dissertation Abstract
"Green Imperialism' in Law: Ecology and Rights in South Asian Literature"

The field of postcolonial ecocriticism has offered important insights into how ecological transformations are intertwined with histories, narratives, and the material practices of colonialism and globalization. Contesting 'Green Imperialism': Ecology and Rights in South Asian Literature contributes to critical conversations on how the history of imperialism is pivotal to understanding contemporary environmental trajectories in South Asia. It is the first sustained interdisciplinary inquiry that brings together law, literature and postcolonial ecocriticism to examine the significance of Western law in shaping environmental thought in South Asia.
Colonial laws imposed an instrumental view of nature, disrupting more harmonious patterns of relating to ecosystems in pre-colonial South Asia. Using a cross-disciplinary approach, I examine how writers articulated these shifts in environmental thinking and practices in South Asia from the 19th century to the present. My readings draw from the literary works of Indian, Sri Lankan and Pakistani novelists such as Amitav Ghosh, Romesh Gunesekara, A. Sivanandan, Minoli Salgado and Uzma Khan, as well as historical and theoretical essays, philosophical writings, and legal texts. They portray how the view of nature as property took root in South Asia due to the influence of colonial laws, converging with the forces of progress, modernity and neoliberal development in the post-independent period. As an aesthetic response to the anthropocentrism in law, I examine how these writers revisit Eastern philosophies such as Buddhism to present an interconnected and non-hierarchical view of man/nature relations. Their representations develop a deep ecological perspective, suggesting an ethic of living and being that eschews the hierarchical frameworks for thinking about man/nature relations.