2004, 2011
Mustafa Aksakal
Assistant Professor
American University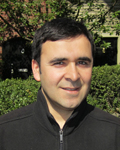 Defining Ottoman Public Opinion on the Eve of World War I
This project examines the Library of Congress's Ottoman language periodicals and books to develop a keener understanding of the views of Ottoman intellectuals and public opinion-makers towards the international order on the eve of World War I. Complementing previous research on the attitudes of Ottoman political and military elites towards an alliance with Germany and entry into the war, this analysis of Ottoman periodical literature and monographs will provide a broader context for Ottoman diplomacy and military policy.
Ottoman Society at War, 1914-1918
This study takes a holistic view of the First World War and the Ottoman wartime experience. It ties together operational history with the empire's national mobilization and its dramatic domestic developments, from the Balkans to Libya, the Caucasus to the Persian Gulf. It recognizes the interconnection of these narratives and explores the totality of war in the eastern Mediterranean.