2012, 2016
Mofeyisara Oluwatoyin Omobowale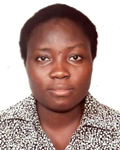 Space, Sexuality, and Power in Bodija Market Ibadan, Nigeria
Sexuality and power as cultural phenomena cut across all spaces in human societies, especially the market space. The relational presence and effect of sexuality and power in the market space are important to human development. It is a dimension of power that forms the basis for inclusion and exclusion in wealth and profit distribution in many cultures, but is particularly important in societies like Nigeria where the influence of the informal economy on national development cannot be disregarded. This study uses qualitative methodology to examine and analyze space, sexuality, and power as possible factors in the development of the informal economy in Nigeria. It focuses on Bodija market in Ibadan North, Ibadan region. Data is generated through Participant Observations, Key Informants Interviews (KII), In-depth Interviews (IDI), and 12 Focus Group Discussions (FGDs). Informants were drawn from all groups, with consideration for gender balance, with a total of 560 for KII and IDI.
Oju and Inu Structure the Transactional Space: Hegemony and Organization of Urban- Markets in Ibadan, Nigeria
Oju, the economic space and Inu, the associational space are two symbolic cultural processes through which traders gain acess and maintain their stay in the market. Though the market presents a façade of open entry, but its spaces and major resources are however, controlled by a network of gate-keeping hegemonic leaders. Entrance is not necessarily through the financial capability of a potential trader, but through the hegemonic values, associated with the concepts of oju and inu which directly or indirectly affect all other events in informal market development. The study will therefore,examine the importance of Oju and Inu in Ibadan market system, through the use of ethnography in purposely selected markets in Ibadan.