2015, 2019
Melinda Latour
Assistant Professor
Tufts University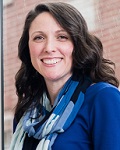 Music and Moral Repair in Early Modern France
This dissertation examines the role of printed music in projects of post-war moral repair in early modern France. Particularly in the years after the horrific St. Bartholomew's Day Massacre of 1572, influential intellectuals, artists, and theologians sought theologically neutral means of moral reparation that could mend the rift between the Catholic and Protestant confessions. Collections of moral poetry and their musical settings emerged in the late sixteenth century as one such means of moral repair. With their focus on virtue, these collections occupied an unusually neutral space in the otherwise polemical landscape of Francophone print culture, offering Catholics and Protestants a shared poetic and musical language for rebuilding personal and collective morality in the midst of religious warfare.
The Voice of Virtue: Moral Song in Late Renaissance France, 1574-1652
"The Voice of Virtue" offers the first book-length study of moral song, a fascinating domain of musical activity that gained traction during the Wars of Religion in late sixteenth-century France. Setting pithy and profound morsels of vernacular wisdom to simple tunes or elaborate polyphonic compositions, moral song offered a multisensory engagement with contemporary ethical thought. Whereas medieval ethics developed within the bounds of professional philosophy, the Renaissance saw an explosion of informal interest in moral philosophy created by and for non-specialists. This book will illuminate song as one such expression of informal ethics, animating diverse moral principles drawn from ancient sources for a broad community of amateur musicians.